Terry Roland to Frayser: 'I love y'all!'
Elected official speaks to Frayser Exchange Club.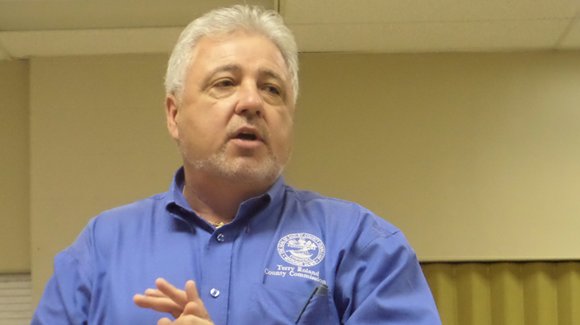 No topic seemed off limits when Terry Roland, chairman of the Shelby County Board of Commissioners, took the floor as the guest speaker for the Frayser Exchange Club on May 26.
Some city leaders "shirking" duties? Check. Taxes? Check. The Commission's upcoming budget vote? Check.
Commitment to Frayser? Check.
Roland, who represents District 1, weighed in on all of those issues and more.
Turning to a discussion of leadership, Roland said that in his view some city leaders weren't handling all their duties effectively.
Roland noted he had mixed feelings about Memphis Police Department officers pulling out of Shelby County Schools and being replaced with employees from the Shelby County Sheriff's Office.
"Yes, I'm upset about that, because I feel like the city is shirking some of their duties, but at the same time, I'm confident that the sheriff's department can handle it," Roland said.
With a vote by the commissioners looming next week, Roland said, "When we get into this budget, we're going to have to weigh all the different options and try to do what's best for you, the citizens….
"When you're working on a budget, you have to weigh your pros and cons on everything. The DA has asked us for an extra $2 million to employ 15 people to watch body cameras' (footage). To me, the money (would be) more well spent given to the Sheriff's department to put more deputies out on the street."
Roland said the Shelby County Schools (SCS) system could end up receiving about $24 million from the Commission, with about $16 million designated for operations. During that phase of his talk, Roland made reference to the merger of the old Memphis City Schools (MCS) system with Shelby County Schools and the Memphis Board of Education decision to surrender the MCS charter in 2010.
"They almost crucified me when I came out against the merger and against the surrender of the charter," Roland said. "You had a $2 billion African-American-run business. Why would you give that up? We had two school systems. Now, we have seven school systems, about 40 charters and 15 state-run schools. We're more divided as a community than we've ever been divided."
The MCS board surrendered the charter because of the debt," Roland said, referencing an unmet $57 million obligation by the city, as well a $1.2 billion-plus Other Post-Employment Benefits (OPEB) debt.
"I try to have confidence in the city administration and the people working up there, and I know they haven't been there long, so I'm going to give them a little more time," said Roland, voicing concern that some leaders were shirking their duties.
If the OPEB debt issue isn't resolved, said Roland, the retirees from the Memphis City Schools system could lose benefits, such as their insurance. He has put together an ad hoc committee to address the OPEB debt issue, with the assistance of Tony Saunders, chief restructuring officer for Wayne County, Mich., and a member of the Detroit Financial Review Commission.
"These problems have to be cured before we can cure our community," Roland said. "We cannot let debt and people's well-being hang in the balance."
More taxation is not necessarily the solution to the various monetary issues in the Memphis-area community, he said.
"We cannot go up on property taxes anymore. If you live in Memphis and Shelby County, your taxes are higher than Nashville and Davidson County.Who do you think higher taxes hurt more than anybody – poor people.
"We have to make government work better for us," he continued. "The money's there. We don't have a revenue problem. We've got a spending problem, and we've got to learn how to spend it right."
Roland spoke directly to his dedication to help better Frayser and address the issues that affect the community.
"We cannot continue to let this community decline," Roland said. "I'm here because I'm sick and tired of looking on the TV, and (seeing) our community always being last in everything. We can do better…I'm very passionate about what I do, because I love y'all."