Kaine, says H!
Some things to know about Clinton's choice for VP.
Jessica Hopper, ABCNews.go.com | 7/23/2016, 12:18 p.m.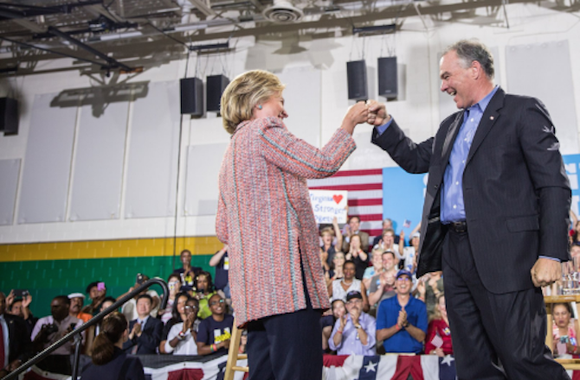 Name: Tim Kaine
Party: Democrat
Date of Birth: Feb. 26, 1958
Age: 58
What He Does Now: U.S. Senator from Virginia. Elected in 2012. Serves on Armed Services, Budget, Foreign Relations and Aging Committees.
What He Used to Do: Kaine served as Democratic National Committee chairman from 2009 to 2011. He served as governor of Virginia from 2006 to 2010, as lieutenant governor from 2002 to 2006, and as mayor of Richmond from 1998 to 2001. He was first elected to office in 1994 as a Richmond City Council member. He has said he ran for council because he thought the governing body was too racially divided. He got his start as a lawyer handling civil rights and fair-housing cases as well as representing death row inmates. He attended the University of Missouri and Harvard Law School.
Hometown: Born in St. Paul, Minnesota but raised in a Kansas City suburb
Family Tree: Kaine was born in St. Paul, Minnesota, to Albert and Kathleen Kaine. He is the eldest of three boys. He was raised in Kansas City where his father owned a metalworking shop. His mother was a home economics teacher. He met his wife Anne Holton at Harvard Law School. They married in November 1984 and have three children: Nat, Woody and Annella. Kaine's father-in-law, A. Linwood Holton, is the former Republican governor of Virginia, and Kaine has called him his "political mentor." Kaine's wife, Anne, is currently the Virginia secretary of education.
Key life/career moments:
While at Harvard Law School, he took a year off in 1980 to be a missionary in Honduras and help run a small vocational school there. It is there where he perfected his Spanish. He still speaks Spanish fluently. Kaine has called the experience in Honduras "searing." He said it taught him that "struggle" is part of life. His exposure in Honduras to overwhelming poverty helped shape his future and his determination to serve others. Kaine has also said that it led him to his wife, Anne, and that the two of them set out to make "reconciliation" the mission of their lives.
In the Senate, he has made a name for himself by sometimes butting heads with his friend, President Obama, when it comes to the role of Congress in giving the president authority to deploy military force and declare war.
Kaine was vetted in 2008 as a potential running mate for Obama. Of the outcome of Obama's decision, he told a Virginia NBC affiliate, "The president told me at one point, he said you know, you are my heart pick and Biden is my head pick ... Sometimes I go with my heart, sometimes I go with my head."
As governor of Virginia, he dealt with a Republican-controlled General Assembly that blocked several of his primary goals, including expanding early education and repairing the state's transportation system. During his governorship, he also dealt with an economic crisis and the mass shooting at Virginia Tech. Following the mass shooting, Kaine's leadership resulted in statewide mental health reforms. He also banned smoking in Virginia restaurants. He told the Washington Post his biggest regret was not finding more money for roads. Since he's left the governorship, some of the $160,000 he's received in gifts has come under scrutiny. Some have described his biggest accomplishment as governor as delivering Virginia for a Democratic presidential candidate for the first time in over 40 years.