Black Lives Matter protest highlights injustice, encourages unity and action
Rally was one of several local public expressions of concern. Protest set for the steps of FedExForum on Sunday.
Brittney Gathen, Special to The New Tri-State Defender | 7/9/2016, 12:20 p.m.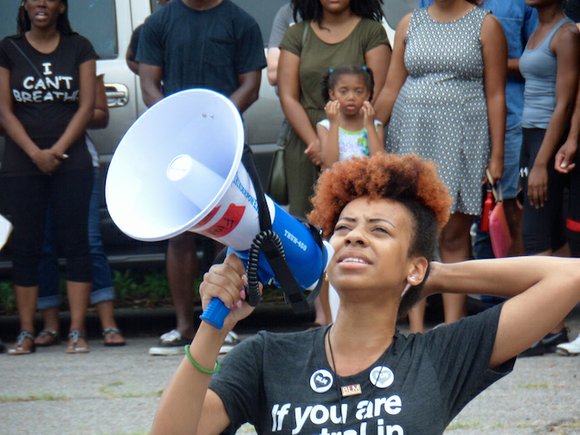 "Black lives matter!"
"I got my hands above my head. Please, don't shoot me dead!"
"No justice, no peace! No racist police!"
Justice-seeking protesters at a Black Lives Matter rally made those chants part of the soundtrack Friday evening (July 8).
The Official Black Lives Matter Memphis Chapter hosted the gathering at 867 South Parkway East, near St. Andrew AME Church. It was punctuated by a demand for justice for African Americans who have been killed in deadly – and highly suspicious – encounters with police. Alton Sterling was killed during just such a scenario in Baton Rouge, La. on Tuesday and Friday's crowd had him and his fate in mind.
"(We did this to) to bring attention to the fact that we have racial inequality in the United States and in our city," said Renae Taylor, a member of the Black Lives Matter Memphis chapter's coordinating core. "Racism is still systemic and institutionalized. We just want to bring attention to the injustice, because as (Dr.) Martin Luther King Jr. said, 'Injustice anywhere is a threat to justice everywhere.'"
As the disturbing videos of Sterling's shooting in Louisiana were dominating news cycles, Philando Castile was fatally shot during a traffic stop by a policeman in Minnesota. The aftermath was captured on his girlfriend's camera phone. The images from both encounters are burned into Robert Oselen Jr.'s memory.
"I decided to attend this event to show solidarity with the Black Lives Matter Movement, and to show that although I'm angry and hurt, I'm about forward change and progress," said Oselen, a father with two sons.
The deaths of Sterling and Castile are "a reminder that in so many ways, we still aren't free," Oselen said. "I want my sons to have some measure of true freedom."
One way to address police brutality is to have extensive background checks performed on aspiring police officers, he said.
Gregory Woodberry, a Black Lives Memphis chapter member, stressed the need for accountability.
"Across the board, I think everyone needs to be held accountable for whatever negative actions they take," Woodberry said. "I understand that there are different kinds of influences that influence people to do the things that they do, but you have to be responsible for the things you do."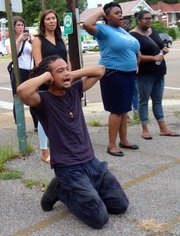 Fight for 15 member Ashley Cathey, who made a pitch for the self protection that comes with unity, also directed a message to police officers who don't live up to standards.
"You took an oath to protect and serve; that's your job," Cathey said. "If you'd do your jobs, we wouldn't have to stand out here and talk about how y'all are treating us."
The pressing need to address police brutality requires more out of leaders on the local and national levels, said Civilian Law Enforcement Review Board (CLERB) member Floridia Jackson.
"I would like to see less politicking and more serving," Jackson said after the protest. "I would like to see service to the people, not to what's popularity-based or fame-based, but (service) with an ear to the people and with a heart for the people. I just want to see it (police brutality) addressed. There are some ways to bring about justice, but we need to at least begin to address it."
She, too, emphasized unity.
"In a time like this, we need to be together to inspire each other and to promote justice."
By self-description, the Black Lives Matter Memphis Chapter exists as a community organization to "dismantle systems that oppress black people (and to) affirm all Black folks and their varied identities including religion, gender and sexual orientation."
"We have to get rid of institutional and systematic racism and make everyone equal – on the same footing, with the same opportunities – that would be a start (to curbing police brutality," Taylor said. "We need people to be punished for (unjust) deaths, because everybody's life is important."
The protest rally also doubled as a forum to emphasize the importance of voting, with registration forms made readily available. It was one of several public expressions of concern in Memphis, with a rally also held outside of the National Civil Rights Museum Friday evening. Another protest rally is set for the steps of FedExForum on Sunday at 6 p.m.