10 MUST EAT Foods For A HOT Summer Body
Dr. Jamie offers food tips for that sizzling summer figure.
Dr. Jamie Hardy, The Lifestyle Pharmacist | 7/1/2016, 12:14 p.m.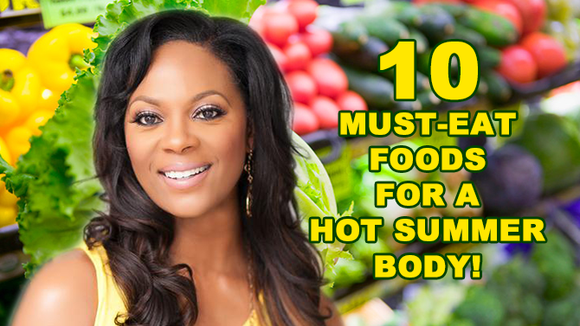 Hi there! I'm Dr. Jamie The Lifestyle Pharmacist TM here to help busy people just like you to be fit, fabulous, and fulfilled without prescribed pills. Are you scrambling to get your body READY for the holiday weekend? Maybe you're heading to the beach with your friends or to a tropical oasis with your significant other or spouse. Either way the underlying goal remains the same- to look and feel FABULOUS now that it's time to peel away those layers of clothing and show some skin.

Please know that you are not alone. There are thousands of people just like you who are on a crash deprivation diet and gym binge trying to shed a few more pounds before Independence Day. What's a deprivation diet? You know that period of time when you promise to only eat salad, drink water, and go to the gym every day? Yeah that. We know all too well how that will turn out. That "get skinny quick" regimen will not produce lasting results because diets don't work, but lifestyle changes last a lifetime.

So today you are in for a special treat. I'm sharing the 10 MUST EAT foods for getting a HOT body this summer.
Food 1- Beans
More beans please! Amping up the amount of beans you eat will help you to trim down that waistline. Beans are loaded with fiber that makes you feel like you ate a huge meal when you really didn't. That's the magic of fiber. Beans are also high in protein which helps to keep cravings for sugary foods away.

Food 2- Pears
Rick Ross had the right idea when he made pears a staple in his daily food regimen. And boy did he slim down. Pears contain a large amount of fiber in their skin. The cool thing about fiber is that it adds volume to the foods you eat, which makes you feel full and eat less. Hello appetite control. Hello weight loss.

Food 3- Almonds
Studies show that individuals who include nuts in their diet lose more weight because nuts reduce hunger. Almonds are a great addition to your diet since they are loaded with healthy fats, fiber, protein, magnesium, potassium, and vitamin E. Be sure to choose roasted and unsalted almonds.
Food 4- Greek Yogurt
Greek yogurt is a fantastic versatile food to include in your diet. It's packed with protein that leaves you feeling fuller longer. It can be used in smoothies, topped with fruit and eaten as a snack, in salad dressings and dips as a replacement for mayonnaise, and so much more.
Food 5- Lean Meats
Meat eaters, you can still eat a diet containing meat and lose weight. Surprised? The key is to eat lean cuts of meat that have not been processed. Processed meats are full of additives and salt and lack the nutrients found in lean meats. Lean meats are an excellent source of protein that helps you to build muscle and trim that waistline. Bake, broil, or grill your meat of course.