It's not just Flint:
Jaimee A. Smith, theGrio | 1/25/2016, 1:20 p.m.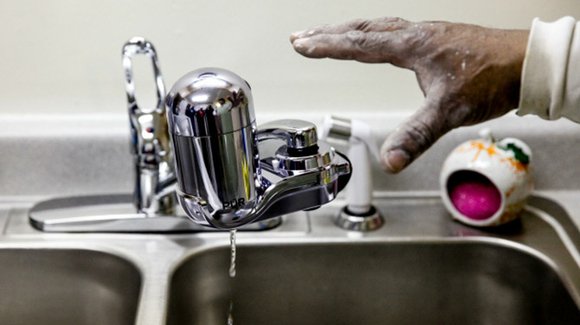 The water crisis in Flint, Mich. is more than just a natural disaster or a series of unfortunate, environmental events — it is an inexcusable, egregious human and health rights violation against a majority black city, where 56 percent of the population is African American. With full cognizance of the hazardously toxic water supply since 2014, Governor Snyder's lack of political action on this issue fits perfectly into the narrative that not only was this intentional, but as Flint native Michael Moore has declared, it is a racial killing and genocide.
Unfortunately, Flint is not the only city where African Americans and people of color are suffering from the onslaught of environmental racism and discrimination. Detroit schools are so heavily infested with rats, roaches and mold that more than 85 schools closed on Wednesday, as teachers staged a sickout in protest to the deplorable conditions. In Baltimore, the levels of lead poisoning among children is three times the national rate. Before Freddie Gray became a victim of racialized state violence in Baltimore, he too was a victim of lead poisoning as a young child; tests showed that his blood lead levels were as high as seven times the reference level given by the Centers for Disease Control.
Louisiana's "cancer alley;" the polluting garbage and medical waste facilities in Chester, Pa.; and the crude oil plant in Richmond, Calif., are only but a few further examples to show that the water problem in Flint is not an isolated event — the poisoning of African-American communities in America is certainly not a new phenomena. Historically and contemporarily, people of color, especially in low-income communities, have been and are continuing to be killed slowly, softly, and silently in their households, in their schools, and on their jobs with impunity – and at a greater rate than police killings and racialized state violence.
Just as with any other facet of society, physical environments are not exempt from institutional racism that also affects environmental decisions, actions and policies, which results in continued racial disadvantages and public health disparities.
According to a 2012 NAACP report titled "Coal Blooded: Putting Profits Before People," communities of color disproportionately encounter toxic work conditions, environmental hazards and polluted neighborhoods. The report, which is a systematic study of 378 coal-fired plants in the United States, showed 75 of those plants earned an environmental justice grade of "F." Around those 75 failing plants, a total of four million people live within three miles of these plants, their average per capita income is just $17,500 — which is 25 percent lower than the state average.
Out of those four million people, 53 percent are people of color.
The report also found that amongst the 12 worst plants, two million Americans live within three miles of the plants' locations, having an average per capita income of $14,626.
Approximately 76 percent of these residents are people of color.
Another report by the Environmental Justice and Health Alliance for Chemical Policy Reform, Coming Clean, and the Center for Effective Government also sheds lights on the interconnectedness between race and chemical disasters. The 2014 report titled "Who's in Danger? A Demographic Analysis of Chemical Disaster Vulnerability" shows that more than 134 million Americans live within danger zones around 3,433 chemical facilities. The report also found that 3.8 million live within "fenceline" areas or zones that present greater danger; thus leaving residents near those areas less time to evacuate in an event of a chemical crisis.