A tragically white washed outlook for Memphis
Rev. Earle J. Fisher, Special to The New Tri-State Defender | 1/21/2016, 1:33 p.m.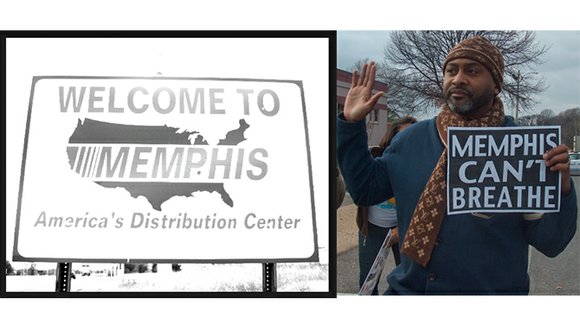 I spent a great deal of time in 2015 working to ensure that since Memphis is approximately 65 percent black, that the concerns and accomplishments of the black community were felt, seen, and heard. I entered into the New Year with a newfound resolve to continue to expand the scope, reach and impact of the black liberation movement in Memphis.
The movement for black lives in Memphis has always been about more than better police and civilian relations. It's about black economics, black politics, black education, black love, black joy and black freedom.
Sadly, as I have considered the landscape of decisions made in city hall, declarations made by city leaders and the city's peculiar commitment to a nuanced "grit and grind" that continues to only affirm and applaud the black bodies that do the bidding of white power brokers and corporatized interest, it's becoming clearer to me that those in Memphis' leadership infrastructure are determined to change demographics of the city from majority black to majority white!
I recently read a tragically white washed outlook for Memphis in the Memphis Flyer by Ms. Bianca Phillips entitled, "The Year Ahead In Memphis." However, I'm not sure if this is foresight or hindsight. The article details a deeply vanilla side of Memphis without any substantial chocolate swirls. Read it yourself. Then riddle me this:
How many black-owned businesses are mentioned? From what I could recognize, zip. Zero. None.

In a peculiar take on media outlets that help shape the outlook of the city, The Commercial Appeal is mentioned but not The New Tri-State Defender or MUTV1 Black Thought.

Crime and public safety is mentioned. Ironically, Mayor Strickland ran on a "crime is out of control" platform but according to the article crime is down. Add to that, there is no mention of the Darrius Stewart shooting. No mention of the TBI Report. No mention of the #BlackLivesMatter movement continually developing in Memphis. Yes, rape kits mentioned (rightfully and necessarily so) but no mention of body cams. And this theme of erasure and neglect permeates the "outlook."
Music is mentioned (can't talk Memphis without talking music) but no mention of Marco Pavé, Tonya Renee Dyson, Yo Gotti, Kia Shine, WHRK, KXHT, WRBO, WDIA or WLOK. And it is blasphemous to talk Memphis music while omitting our numerous gospel artists such as Dr. Leo Davis, Darrell Pettis, Courtney Franklin and the Barnes Family (and that doesn't even scratch the surface).
And while we're talking black art, how does one mention the Memphis art scene without saying Hattiloo Theater and Ekundayo Bandele?
How can there be an "outlook" that ignores these critically and impactful voices and contributions? This is clearly more than oversight.

One might be tempted to be grateful for the politics section mentioning two black politicians. However, history has taught us that every politician in black skin is not a participant in black liberation – quite the contrary. Next.
It was very important and pertinent to mention the LGBT community. Yet, I see absolutely no color in the analysis. We must be clear, there are several black queer folks in Memphis who need to be affirmed and recognized for their bravery and insightful contributions to the well-being of the city.