A discussion with Justin!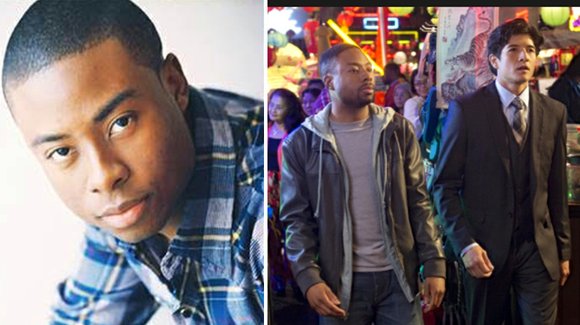 Justin Hires will play Detective Carter in the CBS-TV action-comedy series "Rush Hour," based on the buddy films co-starring Chris Tucker and Jackie Chan.
The versatile entertainer has been an ensemble cast member on the sketch comedy series "Key & Peele," and he's also appeared in the box-office hit "21 Jump Street" alongside Jonah Hill and Channing Tatum.
"Rush Hour" is set to premiere on CBS on March 31st at 9 p.m. CT. (Check local listings)
Kam Williams: Hi Justin, thanks for the interview.
Justin Hires: Thanks for having me, Kam. …
KW: Congratulations on landing the lead in "Rush Hour." Were you a fan of the film franchise?
JH: Absolutely! I grew up watching and studying those films. I've always been a huge fan of martial arts and comedy, so "Rush Hour" was the perfect combination for me.
KW: The trailer looks a lot like the first movie. How will the show be similar and how will it be different?
JH: The pilot episode is a reboot of the original "Rush Hour." So, there are some similarities there. However, all the episodes after that, 13 episodes in total, tell completely new and exciting stories that are not connected with the "Rush Hour" films, at all.
KW: I think the key to the success of the film franchise was the chemistry between Chris Tucker and Jackie Chan. How did you and John Foo go about trying to regenerate that magic?
JH: I completely agree. Fortunately, I think Jon Foo and my chemistry is incredible! Foo is a genuine introvert and I'm a genuine extrovert. We're the perfect ying and yang, on and off camera.
KW: Editor/Legist Patricia Turnier asks: "How did you prepare to play Detective James Carter? Did you get any advice from Chris Tucker?"
JH: I've been doing stand-up for a strong eight years and I've been the class clown my entire life, all of which prepared me for a role of this magnitude. Also, I watched all those buddy cop movies again: "48 Hours," "Lethal Weapon," "Bad Boys," etcetera. I didn't get any advice from Tucker, but I assume his advice would've been, "Have fun and be funny!"
KW: Patricia has (a) follow-up: "Who is your favorite comedian, and do you have a topic you won't touch in a stand-up routine?
JH: Richard Pryor is the godfather of Comedy. Eddie Murphy is the king. Martin Lawrence is my favorite. Chris Rock is the best. Dave Chappelle is a genius. Bernie Mac is the funniest. I'm a comedy nerd. And… rape is typically never funny.
KW: Sangeetha Subramanian says: "Justin, is comedy like writing where an idea just pops in your mind at any given time? If so, what was the strangest occasion on which a joke came to you?"
JH: That's a pretty accurate insight, Sangeetha. A funny idea might pop up in your head or you may see something that you think is funny – then you go to a comedy club, say that thought out loud, and see if everyone else finds it funny as well. Some of my funniest thoughts come to me while I'm taking a shower.
KW: Sherry Gillam would like to know what is the most important life lesson you've learned so far?
JH: Fear will keep you from accomplishing your dreams….
KW: When you look in the mirror, what do you see?
JH: Someone trying to achieve greatness.
KW: What's the craziest thing you've ever done?
JH: I turned down a contract with a major network in New York my senior year of college in order to move to Los Angeles and pursue my acting career. But so far it's working out….
KW: What advice do you have for anyone who wants to follow in your footsteps?
JH: Do your homework, study the craft, believe in yourself, and out-work everyone.
KW: The Tavis Smiley question: "How do you want to be remembered?"
JH: He did what many thought was impossible….
KW: Thanks again for the time, Justin, and best of luck with the new show.
JH: Thank you very much, Kam.
(To see a trailer for Rush Hour, visit: https://www.youtube.com/watch?v=cE_KzuQNQnU
Or: http://www.cbs.com/shows/rush-hour/video/BNcTOId8kk_8JwTdnrlVHlI6w5ynp9OG/sneak-peek-a-look-at-the-new-rush-hour-tv-series/.)