Hall of Fame baseball player Monte Irvin dies at 96
Associated Press | 1/13/2016, 12:51 p.m.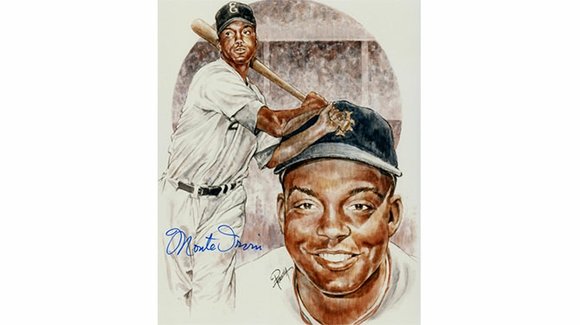 HOUSTON – Hall of Famer Monte Irvin, a power-hitting outfielder who starred for the New York Giants in the 1950s in a career abbreviated by major league baseball's exclusion of black players, has died. He was 96.
The Hall of Fame said Irvin died Monday night of natural causes at his Houston home.
Irvin was 30 when he joined the Giants in 1949, two years after Jackie Robinson broke the color barrier. Irvin spent seven of his eight big league seasons with the Giants and one year with the Chicago Cubs in 1956. A native of Haleburg, Ala., Irvin played in the Negro, Mexican and Puerto Rican leagues during his 20s.
Irvin batted .300 or more three times with a high of .329 in 1953. He finished with a career average of .293 with 99 homers and 443 RBIs, numbers that would have surely been far higher if not for the game's racial segregation.
"Today is a sad, sad day for me," said Hall of Famer Willie Mays, a teammate of Irvin's with the Giants. "I lost someone I cared about and admired very, very much; someone who was like a second father to me. Monte was a kind of guy that you had to be around to get to know. But once you became friends, he always had your back. You had a friend for life.
"Monte Irvin was a great left fielder. Monte Irvin was a great man. I will miss him. There are no words for how I feel today. I could say so much more about Monte, but this is not so easy to do right now."
Irvin was one of the most important contributors during the Giants' amazing pennant drive in 1951 when they overtook the Brooklyn Dodgers after trailing by 13 1-2 games in mid-August. Irvin batted .312 with 24 homers and an NL-leading 121 RBIs.
That year Irvin teamed with Hank Thompson and Mays to form the first all-black outfield in the majors. He finished third in the NL's MVP voting.
Irvin was rewarded with a contract estimated at $25,000, a pay raise of almost 100 percent.
Unfortunately for Irvin he could not repeat his 1951 season in '52.
On April 2 in an exhibition game against the Cleveland Indians in Denver, he suffered a compound fracture and dislocation of the right ankle after a hard slide into third base. Four months later, Irvin was back in action. In 1954 he helped the Giants sweep Cleveland to win the World Series.
Irvin's days in a Giants uniform came to end on June 24, 1955, at the age of 36, when his contract was sold to Minneapolis of the minor leagues. He played one final year in the majors with the Cubs before retiring in May 1957 while with Los Angeles of the Pacific Coast League.
Commissioner Rob Manfred called Irvin a leader during a transformational era for baseball.
"Monte loved our game dearly, bridged eras of its history and touched many lives," Manfred said. "Major League Baseball will forever be grateful to courageous individuals like Monte Irvin."