MONEY MATTERS
Charles Sims Jr., CMFC, LUTCF | 1/2/2016, 1:44 p.m.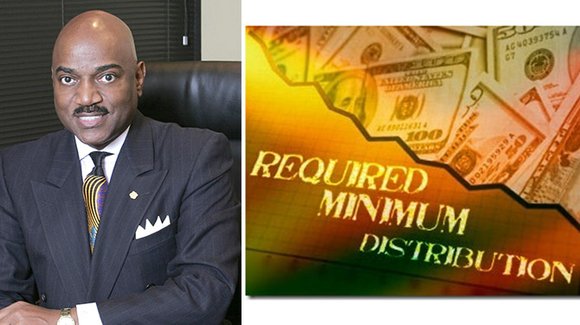 Whether you're t h i n k i n g about retirement, currently retired, or preparing to distribute assets, you have m a n y c h o i c e s to make regarding your IRA and what's right for your overall retirement income plan.
There is one decision, though, that the IRS makes for you, and that is the age at which you must begin taking income from your IRA or other qualified retirement plan and the minimum amount, known as a Required Minimum Distribution or RMD, you're required to withdraw each year.
When should I
take my first RMD?
Generally, you must take your first RMD by April 1 following the calendar year you turn 70. If you participate in an employer-sponsored plan, your starting year for RMDs is the year you turn 70, or the year you terminate employment, whichever comes later. The RMD deadline for subsequent years is December 31.
For instance, if you'll be 70. this March, this is the first year you need to take an RMD. The deadline for doing so, though, is April 1 of next year. You'll need to take your second RMD by December 31 of that same year.
How is an RMD
calculated?
Generally, the required distribution is determined annually through a formula that involves the balances of your qualified accounts and your life expectancy. If you don't take the RMD, there are significant penalties—up to 50 percent of the amount that you were supposed to withdraw.
Please note: Before requesting any RMD, it is important to understand the impacts that withdrawals may have on an annuity contract and/or rider provisions. If taking an RMD triggers an excess withdrawal, it may violate any riders on the contract. Refer to your contract or speak with a financial advisor to find out if this is a concern.
What types of retirement
accounts do RMDs apply to?
You generally have to take an RMD from any retirement account to which you have made tax-deferred contributions or had tax-deferred earn¬ings. These accounts include:
• _Traditional IRAs
• _SEP IRAs
• _SIMPLE IRAs
• _401(k), 403(b) and 457 re¬tirement plans
• _Pension and profit sharing plans
• _Inherited beneficiary qual¬ified accounts
Roth IRAs are an exception. You are not required to take RMDs from a Roth IRA during your lifetime. Please note, however, that beneficiaries of your Roth account are required to meet RMD rules.
How should I take my RMDs if I have multiple accounts?
That depends on the types of accounts you have.
• _If you have more than one IRA, you must calculate the RMD for each IRA separately each year. However, you may aggregate your RMD amounts for all of your IRAs and withdraw the total from one IRA or a portion from each of your IRAs.
• _RMDs for qualified plan accounts other than IRAs must be calculated and paid separately from the RMDs for your IRAs.
• _If you have more than one qualified retirement plan account, the RMD must be calculated and paid separately for each qualified plan account.
• _RMDs for inherited IRAs must be satisfied separately from your other IRAs
How do I
calculate my RMD?
Please contact your tax advisor for assistance. You may also contact us or your financial professional may be able to assist based on the extent of his or her knowledge of any employer-sponsored plans you may participate in.
(Charles Sims Jr., CMFC, LUTCF, is President/CEO of The Sims Financial Group. Contact him at 901-682-2410 or visit www.SimsFinancialGroup.com.)