BIZ PROFILE: Amid a food desert, Vince Gardley makes a fitness push
A little sweat equity may be a healthy option for those struggling with food and obesity.
WIley Henry, whenry@tsdmemphis.com | 2/27/2016, 11:02 a.m.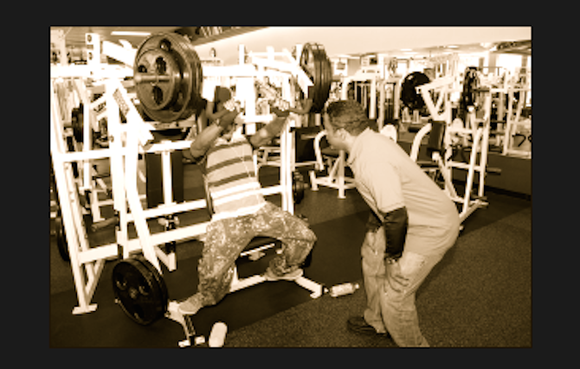 There are a number of restaurants and fast food options in the Whitehaven community to get your grub on the run. Vince Gardley says most of it is unhealthy and often leads to a sedentary lifestyle, obesity, and eventually chronic disease.

"I am located in a food desert. I see the adverse effects of obesity on our community daily. It's a battle," said Gardley, owner of the French Riviera Fitness Center, 4130 Elvis Presley Blvd.
Several liquor stores, two dialysis clinics and six drug stores are located within the vicinity where Gardley decided to develop an exercise regimen for members who are health-conscious and willing to give a little sweat-equity to get in shape.

Noting that people are eating all the wrong stuff, Gardley made a statement by posing a question: "Wouldn't it be awesome if folks would reduce their fast food and processed food intake, eat more vegetables, and just do 30 minutes of resistance training per day?"
Determined to make an impact in Whitehaven, Gardley shares with The New Tri-State Defender what he's doing to make that happen.
Wiley Henry: Tell me more about yourself and your business background?
Vince Gardley: As a child growing up in Chicago, my dad ran a consulting company. My grandmother ran a dry cleaning business. And my mom ran a travel agency. I always wanted to run my own business. My first businesses were "Crystal Clear Windows" and "Beautiful Lawns" in Houston, Texas. In Memphis, I ran Mortgage Express, a nationwide mortgage company from 2002 until 2008. I also managed four Cricket Stores (JAbber JAw) throughout the Memphis area.
W.H.: Where did you go to school or college and what did you study?
V.G.: After competing in track & field in high school and college, I realized my gift was in training others. I'm a proud graduate of Texas Southern University in Houston. I have a degree in psychology/communications. 
W.H.: It seems physical fitness has always been a part of your daily life.
V.G.: My dad was an avid speed walker. My mom ran, roller-skated and played tennis and badminton. Fitness has always been a great part of my life. I have had the privilege to work with Olympic champions, pro football, basketball, tennis and baseball athletes.
W.H.: As the sole owner, what makes the center different from others in the Memphis community?
V.G.:  We offer an environment that's more like home and where encouragement reigns. We are a community-based fitness center – from training high school athletes who have gone on to major universities to even pro athletes. We also have a special program for our seniors: $15 enrollment. That's $15 a month. No contract.
W.H.: What's your plan for longevity or sustainability?
V.G.: I believe if we keep our current members happy and continue to add new members, it will be the catalyst for us to expand to a larger facility where we can meet even more so the needs of this underserved segment of Memphis. 
W.H.: What are some of the things you're doing to attract people to the center?
V.G.: We are currently hosting health fairs, running radio spots on iHeartRadio stations and offering health awareness at many local churches and schools.
W.H.: What age group are you targeting?
V.G.: The age of our typical member is 35, but we span from 16 to 96 years of age.
W.H.: What amenities do you offer besides exercise equipment?
V.G.: We have certified trainers and offer full fitness assessments, from Yoga to line dancing and individualized fitness programs.
W.H.: How does one become a member?
V.G.: To become a member, just call 901-348-4048 and let our fitness professionals design a plan that meets your needs. 
(The French Riviera Fitness Center is open Monday thru Thursday, 6 a.m. to 9 p.m., and on Saturday, from 8 a.m. to 6 p.m. It is closed on Sunday.)