The strive toward '65
Bernal E. Smith II, besmith@tsdmemphis.com | 2/25/2016, 1:32 p.m.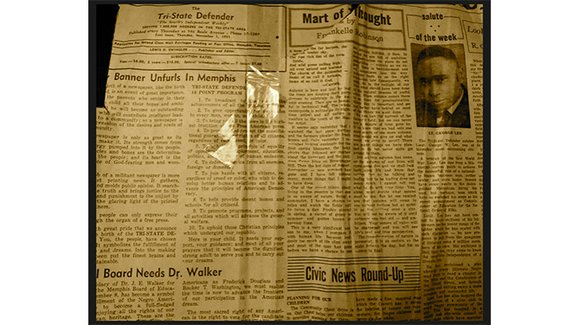 (Bernal E. Smith II is president and CEO of The New Tri-State Defender.)
Published by Samuel Cornish and John Russwurm, Freedom's Journal was America's first African-American owned and published newspaper. In its first edition on March 16, 1827, they moved to "…plead our own cause…"
"Too long have others spoken for us. Too long has the public been deceived by misrepresentations, in things which concern us dearly, though in the estimation of some trivial issues; for though there are many in society who exercise towards us benevolent feelings; still (with sorrow we confess it) there are others who make it their business to enlarge upon the most trivial issues, which tend to the discredit of any person of color; and denigrate and denounce our whole body for the misconduct of that one."
This profound statement reflects the spirit, tone, tenor and purpose from which the Black press was born and in many ways still rings true. The Black press was born out of the necessity of telling "our story," of telling the truth when and where others attempted to either eliminate or denigrate Black lives and quality of life.
With Black History Month 2016 coming to its culmination, it's an appropriate time to share an introduction to a rich piece of Memphis' Black history and of the history for Greater Memphis. This year marks 65 years of continuous publication for the Tri-State Defender (The New Tri-State Defender, TSD). On November 1, 1951, the first edition of the Tri-State Defender was published with John Sengstacke as publisher and L. O. Swingler as the editor.
Seeing an ever evolving and growing need for more information and empowerment for a large African-American population in a southern American city, Sengstacke – also publisher of the Chicago Defender (started in 1905 by his uncle, Robert Sengstacke Abbot) – moved aggressively to establish the new medium in Memphis. Swingler, a distinguished member of Alpha Phi Alpha Fraternity, Inc., was former editor-in-chief of the Memphis World.
Since it's inception, TSD has served as a beacon light of hope and an agent of positive change for this community.
The 20-page inaugural edition introduced "The Tri-State Defender Ten Point Program." It included vows to:
• "broadcast to the world the achievements of all the citizens it serves,"
• "join hands with all citizens regardless of creed or color who wish to develop better human relations and to advance the principals of American Democracy," and
• "uphold those Christian principles which under gird our republic…."
These were bold and advanced goals for the time. They reflected enlightened values born out of an understanding of the power of media to affect and change its audiences.
Today we stand on those values and our understanding of them with a mantra of information, inspiration and elevation. We seek daily to inform our readers and the communities we serve, to inspire those same people and to ultimately help improve their quality of life through the various mediums and platforms that we operate 65 years later.
Over the course of this year we will share, recognize and celebrate many great people/contributors, stories and outcomes of a rich and ongoing journey. As our evolution continues, we plan to share our vision for the next 65 years. We invite you, our readers, to share with us your fondest stories, recollections, connections and experiences with TSD.
In addition to being one of Memphis' longest running publications, the TSD is one of the city's longest operating black-owned businesses. That is reason enough for celebration given the well chronicled and documented struggles that Black businesses in Memphis have had in remaining relevant, operable and profitable.
Being a major source for news and information in this region is hard work and we are about that business. This 65th anniversary will mark a pivotal point to reflect as we move forward. If you are not already a home subscriber, join us in our efforts to deliver greater news, information, entertainment and events by becoming one. (Visit TSDMemphis.com or call 90-523-1818.)
Black history is American history and the TSD is an evolving great American story of trial and triumph. It is thoroughly and truly Memphis!