Kendrick Lamar's performance brought the Grammys to life; White House praises him
Yesha Callahan, The Root | 2/16/2016, 12:56 p.m.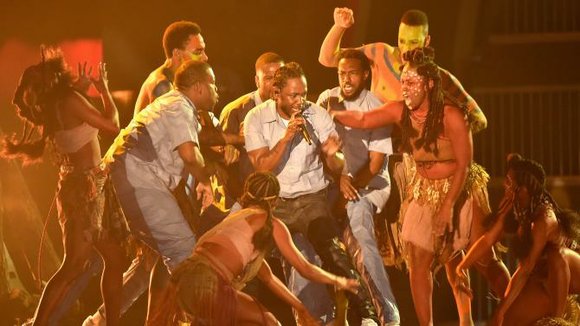 After almost two hours into a lackluster Grammy Awards show, Kendrick Lamar saved the night. Well, at least according to those live-tweeting the show on social media. Lamar's emotional and politically charged performance was not only an ode to blackness, but apropos for Black History Month.
From standing in front of a backdrop in the shape of Africa to rapping about police brutality and the shooting of Trayvon Martin, Lamar's performance of "The Blacker the Berry" and "Alright" may have shocked some of those in the crowd and conservatives, but it was what the world needed to see and hear.
"I'm black as the moon, heritage of a small village," he rapped. "Pardon my residence, came from the bottom of mankind. My hair is nappy, my [d--k] is big, my nose is round and wide. You hate me, don't you?"
In his verse dedicated to Trayvon Martin, Lamar reminded the world that the unarmed teenager's 2012 death resonated with him.
"On Feb. 26, I lost my life, too. It's like I'm here in a dark dream. Man hear screams recorded. Say that it sounds distorted, but they know who it was," he rapped.
Those on Twitter praised Lamar's performance and even compared it to Beyoncé's recent Super Bowl appearance.
But one tweet stood out from the rest. The White House's Twitter account congratulated Lamar on his win, and also mentioned his participation in the Pay It Forward mentoring program.
Although Lamar didn't win Album of the Year, he took home five Grammys and even more respect from his peers and fans.