Strickland asks Joann Massey to help him with the "shameful" scenario facing minority- and women-owned businesses.
Karanja A. Ajanaku, kajanaku@tsdmemphis.com | 2/15/2016, 2:43 p.m.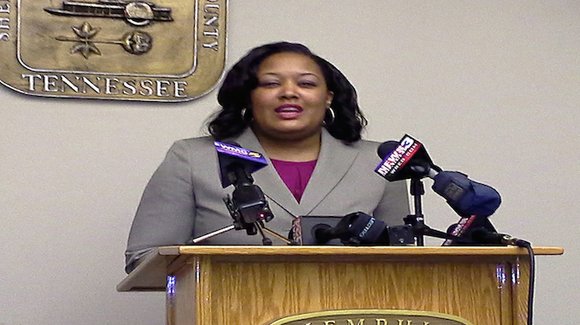 Labeling it "shameful" that only about 1 percent of the business receipts in Memphis go to minority- and women-owned businesses according to a recent report, Mayor Jim Strickland has turned to Joann Massey in what he sees as a series of steps forward.
On Monday morning, Massey was introduced as the City of Memphis' director of Minority and Women-Owned Business Development. With 15-plus years experience as a project manager and economic development consultant, Massey has most recently employed her talents at Southwest Tennessee Community College and the Tennessee Department of Economic & Community Development.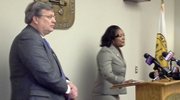 Most importantly, said Strickland, Massey has a "proven professional track record of directly working with partners" to improve the prospects of minority- and women-owned businesses.
Soon after the introduction, Massey stepped to the podium in the Mayor's conference room at City Hall and fielded questions as the person appointed to lead an office that reflects the consolidation of the Office of Contract Compliance and the Memphis Office of Resources and Enterprise (More).
Thanking Strickland for the opportunity, Massey said she wanted to make sure that "stakeholders and our partners" knew that she was all-in for making a positive impact.
"We plan on building a team that actually is going to get out of our offices, get into the community and actually meet with business owners where they are; not necessarily for them just having to come to City Hall," she said.
"It's not going to be just seminars and forums, but actually having certification specialists who get out in the community and meet with those business owners to take them to the next step and provide then information."
In 2015, about 12 percent of the City of Memphis' contracting dollars went to MWBE, Strickland noted.
"City government cannot change this overnight. … We can do our part and certainly lead by example and challenge the private sector to do the same," he said.
Asked to fast-forward and envision success, Strickland said, "It would certainly be a higher number. I'm not going to sit here and put a number on it. But we measured it and in 2015 it was 12 percent. In 2014 it was 14 percent. We need to do better than that. I can't tell you the exact figure but we need to do much better."
In an exchange after her formal remarks, Massey said that while efforts up to this point have been good, streamlining is very important going forward.
"I think putting the business owners first and making them a priority … these are the most important things that we need to do in changing our efforts."
The team, said Massey, has done a good job disseminating information, "but they depended on the business owners to know which websites to go to or which portal to access or attending workshops and seminars. In this case, under my leadership I plan on actually making sure that the business owners' needs are there and try to reach them where they are.
"Sometimes business owners can't necessarily close their doors and come down to City Hall," said Massey. "That's something the mayor and I have discussed, so we're looking at ways of taking our team out and actually meeting with business owners in the field."