Could more school choice equal more problems in education under Trump?
The fight between public and private control over schools is about to get heated.
Allison Keyes, The Root | 12/28/2016, 10:47 a.m.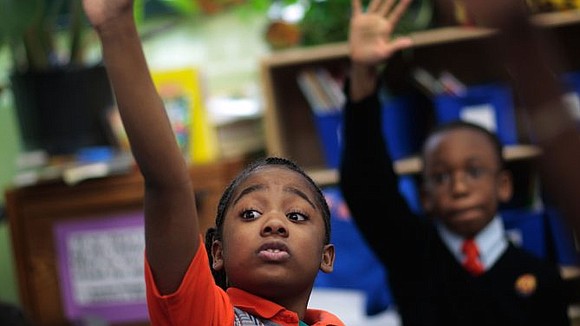 President-elect Donald Trump has been very clear about his plans for education reform under his administration. He plans to reprioritize federal dollars for an additional federal investment of $20 billion toward school choice. This, he says, will give states the option of funding students' education at the public or private school of their choice. It will also favor states that have private school choice, magnet schools and charter laws. Trump says his plan will establish the national goal of providing school choice to each of the 11 million school-age children living in poverty.
"As your president, I will be the nation's biggest cheerleader for school choice. I want every single inner-city child in America who is today trapped in a failing school to have the freedom—the civil right—to attend the school of their choice," Trump says. "I understand many stale, old politicians will resist. But it's time for our country to start thinking big once again."
To lead that charge, the president-elect has nominated Michigan billionaire Betsy DeVos to be U.S. secretary of education. On her website, she touts her former leadership of the school-choice advocacy group American Federation for Children, describing herself as a "national leader in the fight to boldly reform America's broken education system."
"As a result of AFC's work," her website says, "over one million children are now in the school of their parents' choice, instead of being trapped by their zip code in a school that failed to meet their needs."
But school choice is a controversial subject, and critics have said that DeVos' vision, which she says will bring a broad array of "choice," would actually privatize the nation's public education system. In a March 2015 speech at the SXSWedu convention in Texas, the woman who has called the traditional public education system a "dead end" drew a stark picture of what she sees as the difference between high-performing private or charter schools and low-performing public schools. She presented a hypothetical choice between "Alpha School … a high-performing school with graduation rates ranging from 70 to 90 percent," and a second, "low-performing" school "with graduation rates hovering around 50 percent."
"If you chose Alpha School, then, in Washington, D.C., you chose a private or charter school for your kids. If you chose Beta School, you chose the traditional public school," DeVos said.
DeVos has not said that she wants to eliminate public schools, and she includes them in her list of what she describes as an open system of choice. The conservative Heritage Foundation backs her nomination for education secretary, saying in a statement, "Betsy DeVos has been a staunch supporter of more education choices for students and parents, and the school choice movement will have a champion in the Education Department."
But the American Federation of Teachers blasted Trump's selection in a statement from President Randi Weingarten, who called DeVos an "anti-public-education nominee."
"In nominating DeVos, Trump makes it loud and clear that his education policy will focus on privatizing, defunding and destroying public education in America," Weingarten said. "DeVos has no meaningful experience in the classroom or in our schools. The sum total of her involvement has been spending her family's wealth in an effort to dismantle public education in Michigan. Every American should be concerned that she would impose her reckless and extreme ideology on the nation."