Preview: Tigers set for high-scoring Boca Raton Bowl matchup with WKU
Kickoff TONIGHT at 6 p.m. CST; Watch on ESPN
Terry Davis, Special to TSDMemphis.com | 12/20/2016, 11:10 a.m.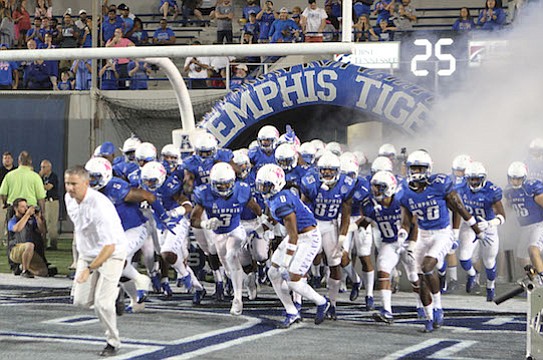 The University of Memphis Tigers will cap off an unexpected great season playing the Western Kentucky Hilltoppers in the Boca Raton Bowl in Boca Raton, FL tonight. Kickoff is at 6 p.m. CST on the campus of Florida Atlantic University.
The Hilltoppers (10-3) find themselves in a similar position as the Tigers were last season, with an interim coach. Former WVU head coach Jeff Brohm left the program after leading the team to a Conference USA 58-44 championship win Louisiana Tech. With Brohm now coaching at Purdue, WVU defensive coordinator Nick Holt will coach the team for the bowl game.
Both teams are playing in a bowl game for the third consecutive year. The Tigers are making their first appearance in the Boca Raton Bowl and their third bowl visit to the state of Florida (St. Petersburg Bowl, 2008; Miami Beach Bowl, 2015). The Tigers are 1-1 in Florida bowls, winning the 2015 Miami Beach Bowl, 55-48, over BYU in double overtime and falling in the St. Petersburg Bowl to USF 41-14.
As the only bowl game on TV, all eyes will be on the Boca Raton Bowl. Both offenses are known to put up a lot of points.

Western Kentucky is led by QB Mike White, who threw for 4,027 yards and 34 touchdowns this season, with only six interceptions.
His favorite targets were Nicholas Norris and Taywan Taylor. Both had more than 1,000 receiving yards — Norris with 1,253 yards and 13 touchdowns; and Taylor with 1,586 yards and 16 touchdowns. The ground attack is led by Anthony Wales with 1,410 yards and 24 rushing touchdowns on the season.
Meanwhile, The Tigers (8-4) will put the Hilltoppers' defense to the test with a breakout season for junior QB Riley Ferguson. Ferguson ended the season banged up, with some sore ribs, but still managed guide the Tigers to an eight-win season.

Ferguson passed for 3,326 yards and 28 touchdowns with nine interceptions. His favorite target was Anthony Millier. Miller has some incredible games this season and was named to the American Athletic Conference second team offense. Miller compiled 1,283 years and 11 touchdowns. His longest reception was 84 yards for a touchdown.

With so much firepower, this game may have more than 1,000 total yards. But it may be the defense that decides the game. The Memphis defense has been much better this season and will be led by Johnathan Cook and Arthur Maulet, aiming to put the clamps on the Hilltoppers.
Cook has 81 total tackles, including 66 solo tackles and an interception. Maulet patrols the Tigers secondary and has two interceptions and 14 tackles for a loss.
The Tigers special teams may play a key role. Tony Pollard, a freshmen from Melrose High was named to the USA Today Freshman All-American Team. Kicker Jake Elliott has rewritten many of the kicking records in Tigers' history will be a strong contender to tee up for a professional team next season.
Tigers' coach Mike Norvell hopes to end the season on a high note with a win and use that to sell further to the Tigers recruits.