NNPA nets $1.5 million grant to spotlight Every Student Succeeds Act
Bill & Melinda Gates Foundation funds public awareness campaign.
TSD Newsroom | 12/20/2016, 11:19 a.m.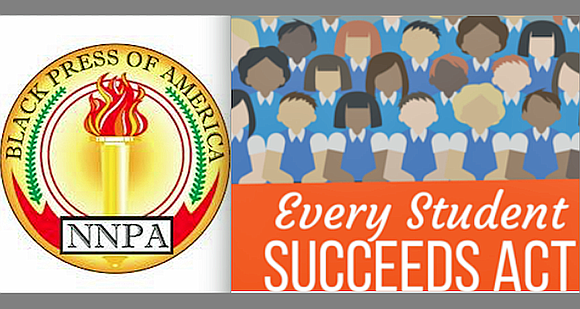 The National Newspaper Publishers Association (NNPA) has received a $1.5 million grant from the Bill & Melinda Gates Foundation to support a three-year, multi-media public awareness campaign focused on the opportunities and challenges of the recently enacted Every Student Succeeds Act (ESSA).
Under ESSA, states will be subject to more flexible federal regulations designed to provide for improved elementary and secondary education in the nation's public schools. The law also ensures that every child – regardless of race, income, background or where they live – has the opportunity to obtain a high-quality education.
ESSA, which reauthorizes the Elementary and Secondary School Act (ESEA) and replaces No Child Left Behind, received bipartisan support and was signed into law by President Barack Obama on Dec. 10, 2015. The regulations are administered by the U.S. Department of Education and will go into effect on January 30.
NNPA will engage its 211-member black-owned newspapers in more than 70 markets in a campaign to heighten public awareness of ESSA. The campaign will highlight efforts and policies aimed at closing the achievement gaps for students of color and low-income students.
The NNPA, headquartered in Washington, DC, is a trade association of the largest and most influential black-owned media organizations in the United States.
Dr. Benjamin F. Chavis Jr., NNPA president, said the organization and its members are uniquely positioned to inform and advocate for the effective implementation of ESSA. He called the act the most significant civil rights and education law today.
"NNPA will be in the forefront of informing our readers of efforts to drive support for high standards, assessments, accountability, and equity in education and to ensure that we close the achievement gap. Despite the name change, no child should be left behind due to an inequitable education system," Chavis said.
NNPA Chairman Denise Rolark Barnes noted that NNPA is ready to roll in extending the news relative to ESSA through NNPA's 20 million newspaper readers and "those who Follow and Like us on social media."
When he signed the bill into law last December, President Barack Obama said, "With this bill, we reaffirm that fundamentally American ideal that every child, regardless of race, income, background, the zip code where they live, deserves the chance to make of their lives what they will."
Sen. Patty Murray (D-WA), ranking member of the Senate Health, Education, Labor, and Pensions (HELP) Committee, and Congressman Bobby Scott (D-VA), ranking member of the House Committee on Education and the Workforce, issued the following statement when the final regulations were released in November: "Passing ESSA was a critical step in our work to make sure all children have access to a high-quality public education, no matter where they live, how they learn, or how much money their parents make. "
NNPA will lead efforts to inform and engage communities across the country beginning now through November 2019. That will involve creating editorial content, coordinating special events, using social media to broadcast community announcements and coordinating ad buys in member publications and on digital platforms.