Retired NFL player owns a grocery store in Baton Rouge, Louisiana, food desert
Tyrone Legette's mission as an entrepreneur is to meet a community's needs
Kelley D. Evans, The Undefeated | 12/10/2016, 6 a.m.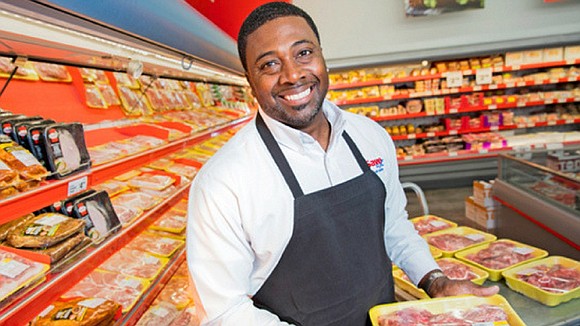 A little more than an hour and 20 minutes away from the Mercedes-Benz Superdome sits an area in North Baton Rouge, Louisiana, known as Brownsfield. The area is defined by the U.S. Department of Agriculture as a food desert — a community that lacks access to fresh fruit, vegetables and other healthy foods.
On Feb. 3, former NFL cornerback Tyrone Legette saw the need in that community and opened a grocery store where people could buy affordable and healthy food. His store is part of the Save-A-Lot franchise.
"The Baton Rouge area was an area of opportunity," Legette said. "A lot of people really didn't invest into the area that I was trying to redevelop. Before, it was a thriving area where Winn-Dixie was [15 years ago]. I knew that a grocery store was needed in the community, because the population was there, the traffic count was there, the income was there, there just wasn't a grocery store."
Legette was drafted by the New Orleans Saints in 1992, went on to play for the Tampa Bay Buccaneers and the San Francisco 49ers, and made New Orleans his home. More than 150 homes and two decades later, he decided to expand his community efforts by investing in the grocery store business. The store is thriving while meeting a need.
The 46-year-old entrepreneur has created more than 20 jobs in the community and he wants to create more while encouraging entrepreneurship, by extending his own knowledge and sharing his story. Legette started his business, Legette Construction Inc., after six years in the NFL. Through the company, he was able to help low-income families and first-time buyers acquire homes and save money.
"I would create the land," Legette said. "I would team up with the community development corporation, whether it would be Jefferson Harris Community Development Corp. or one of the local nonprofits. We would build subdivision homes throughout communities and put people in homes for the first time."
Legette is big on saving money and spreading the word about the necessity of spending wisely.
"I know that when I first got in the league in 1992, my thing was to save money, not to spend the opportunity that I had. I was one of those guys who never had an agent. I only had an attorney and my attorney was $75 an hour. I deferred my contract and only took $50,000 a year rather than taking a full salary of $350,000. I was a guy who drove my car from college for three years and let the interest of my money pay for the new car rather than my money, my principal paying for new cars. I was a guy that always felt as if I had to do the right thing because the opportunity was too good and too short to miss."
Legette said the hardest part of his transition from the NFL to entrepreneurship was finding people and lending institutions to believe in his business. In order for people to take him seriously as a contractor, he built his first home with cash and sold it. Then a local bank acknowledged his work.