Kirk Whalum's 'Gospel According to Jazz Tour' takes the stage at Clayborn Temple on Dec. 11
Also performing: Keiko Matsui and Norman Brown.
Tony Jones | 12/8/2016, 12:28 p.m.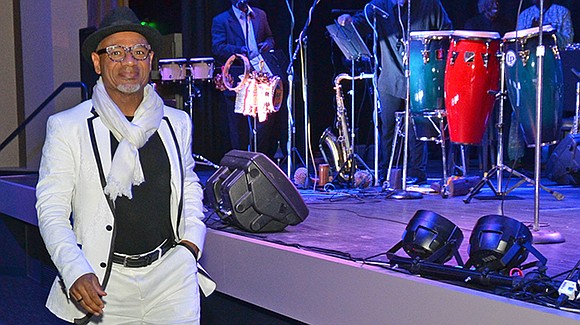 The sounds of jazz-accented gospel music will flow from historic Clayborn Temple on Sunday (Dec. 11) night courtesy of a Memphis favorite son, Kirk Whalum, and his Gospel According To Jazz tour.
Slated for 11 cities, the tour winds through St. Louis and Chicago before stopping in Memphis this weekend. While hitting a home spot is always special for any member of a traveling band, Whalum said he's really feeling Sunday's show.
The New Tri-State Defender caught up with Whalum as he and his fellow music makers were traveling from Houston to Beaumont, Texas.
"The connection at Clayborn Temple is really special because I had my eyes on that building to have a place that I wanted to call Café Kirk," Whalum said during a brief but fun exchange.
"The name Kirk means church in Gaelic. My idea was for it to serve as a place for a cutting-edge ministry. To see it being renovated with an openness for something like the thing that I've started is really exciting."
Soaring hearts and warm spirits ushered in revitalization plans for historic Clayborn Temple downtown at 204 Hernando Street on Oct. 25. Closed since 1999, Clayborn Temple was the home base for the 1968 Sanitation Workers strike that drew Dr. Martin Luther King Jr. to Memphis during the fateful year of 1968. NPI Clayborn Temple, LLC purchased the building and reportedly is working on a plan for rehabilitation and raising funds while looking for another nonprofit end-user.
Whalum will bring what he calls a truly sizzling ensemble with him for the Clayborn Temple performance. That includes keyboardist and composer Keiko Matsui and guitarist Norman Brown. Whalum's brother Kevin is on vocals, with John Stoddardt (piano), Braylon Lacy (bassist) and Marcus Finnie (drums) in the mix, along with singer/songwriter Shelea, whom Whalum says is lighting up the industry.
"She is changing the game," Whalum said of Shelea. "She's been touring with Stevie Wonder for two, maybe three years (and) has played the White House three times…."She made a Youtube video as a tribute to Whitney Houston on just solo piano, and it got like two million hits….
"She grew up in church playing piano and singing in the choir, so she can hit the stage and run the gamut from old school gospel and tear the house down like Aretha. And again like Aretha, she can turn on a dime and do authentic jazz. I mean like Billie Holiday or someone like that. Just to let you know where she can go, the product she's finishing now is with Marilyn and Alan Bergman, who wrote "The Way We Were." That's the type of artist she is."
Whalum is arguably the hottest saxophonist in the jazz industry since David Sanborn. He cut his teeth in the pop world, hitting the stage like a buzz saw as the musical director for Houston.
That dual musical imprint made a new turn when – melding his Memphis upbringing into the mix – he evolved gospel into his contemporary jazz sound. The immediate reception to his utterly personal, even beautiful interpretation of gospel music proved Whalum is a master storyteller with his horn.
Another measure of proof is several Grammy awards. In 2011, Whalum netted his first Grammy award for Best Gospel Song ("It's What I Do," featuring Lalah Hathaway), along with Jerry Peters, a talented writer and longtime friend.
While he's proven to be a master of the game, Whalum, who grew up making music in his father's church choir, said, "I try not to pay too much attention to the Grammy process because it can be a stress. But I really appreciate you mentioning it."
Whalum's next CD is titled "#LoveCovers," which can can be advanced ordered from his website (kirkwhalum.com/). It features Houston's "I Will Always Love You." He didn't say whether it will make Sunday's performance, but who knows what Kirk Whalum's going to do next?