Faith, finances and the 'Fight for $15': It's about ALL of us!
Fisher: If you consider yourself Christian, then it's your fight too
Earle J. Fisher, Special to TSDMemphis.com | 12/8/2016, 12:43 p.m.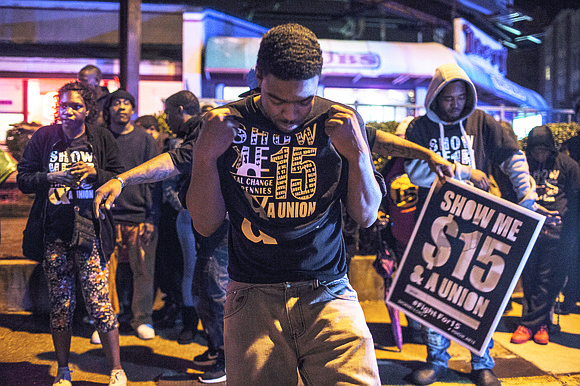 Scores of people in Memphis, along with thousands across the country, demonstrated in support of the Fight for $15 movement on November 29th. This movement for fair wages, just labor practices and economic equity echoes the same sentiments that made the March on Washington such an encompassing and historically impactful endeavor.

The Civil Rights Movement of the 1960's was able to intersect faith, justice and economics in a way that appealed to a diverse group of people willing to affirm that God demands we treat every human being with dignity and every worker with respect.
It seems so simple.
If anyone should be in support of fair wages, just labor practices and economic equity, it should be people of faith, right?
One of the concrete Christian principles is stewardship. Most people rightfully condemn churches (and exploitative church leaders) for a focus on fundraising that often compromises ministerial ethics. The other side of that coin is the mandate that we adequately compensate workers, appropriately collect social contributions and efficiently distribute resources where they are most needed – what many religious scholars now refer to as "economic justice."

"It is theological malpractice," says the Rev. William Barber, "to ask your members to tithe if you won't fight for them to have a living wage."
Amen! It just seems to make good sense, to me.

Everyone demanding equity is echoing the sentiment found throughout the biblical and prophetic traditions.

That's why I've marched with the Fight for $15 movement in Memphis and Nashville. I was part of a group of clergy that attended the National Workers Convention in Virginia a few weeks ago. It's simply the righteous thing to do.
Since Memphis is in the heart of the Bible belt, a city that is predominately black and plagued by poverty should be a likely target for the Fight for $15 movement to gain support and necessary traction. After all, predominately black denominations are reported to be some of the poorest people of faith.

David Masci, in an October 2016 article entitled "How income varies among U.S. Religions Groups," wrote that, "Among those denominations with the lowest household income are two historically black churches, the National Baptist Convention...and the Church of God In Christ...nearly half of all (their]) members have household incomes of less than $30,000 per year."
In other words, most "church folks" make less than $15 an hour.
Black Church congregants should be marching in droves.
Nevertheless, on National Day of Action many people of faith were making presumptions about the "character" of the fast food workers from a platform of false piety. Most people still can't seem to make the connections between economic exploitation, political manipulation, inadequate education and the necessity of public (civil) demonstration. Add spiritual apathy and passivism to that equation and you have a molotov cocktail of generational poverty and oppression.
Welcome to Memphis.
While the working poor (and allies) were protesting, all manner of conjecture and misinformation prevailed in social and mainstream media. Inarticulate workers and subtle rhetorical jabs at the humanity of those seeking livable wages flooded timelines and news cycles. Between the prosperity gospel perspective and the evangelicalism that promoted Trump to the presidency, too many of us see faith and finances through the lens of radical and unrighteous individualism.