Memphis 3.0 sinks roots in Frayser in pursuit of a strategic plan
Memphis 3.0 is a two-year process designed to yield the city's first comprehensive plan since 1981. If it unfolds as envisioned, Memphis 3.0 "will guide the city's future with an eye toward opportunit
Brittney Gathen, Special to The New Tri-State Defender | 12/1/2016, 12:39 p.m.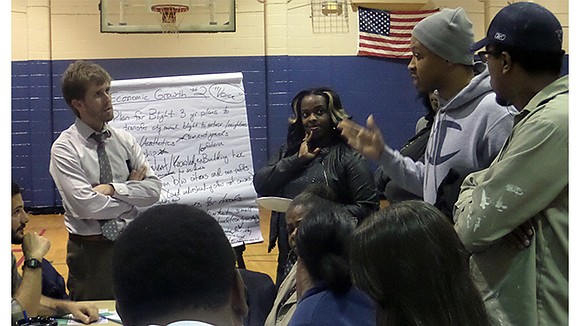 Katrina Scott-Davis has lived in Frayser for four years. On Monday night, she made her way over to the Ed Rice Community Center for the first in a series of Memphis 3.0 kickoff rallies.
Like others there, she was intrigued about the idea of Memphis 3.0, a two-year process designed to yield the city's first comprehensive plan since 1981. If it unfolds as envisioned, Memphis 3.0 "will guide the city's future with an eye toward opportunity for all."
So far during the rollout, planners have emphasized the importance of community input in the development of a final product. After participating in Monday's gathering, Scott-Davis' takeaways included more insight about Frayser and a personal commitment to continue to get more involved in the community.
"One thing I've learned is that there's a lot of community engagement here," Scott-Davis said. "A lot of people came and shared their thoughts and ideas. …When I first moved here, I wasn't involved, but now I get more involved and it's beneficial to my family. I want to help make Frayser better."
So what would a better Frayser look like? Scott-Davis' improve-the-quality-of-life list includes more commercial development, an increase in the amount of businesses, more shopping options and more entertainment.
The success language used by planners and extollers of the Memphis 3.0 reflect a desire for a comprehensive planning document that puts emphasis on improving connectivity, sustainability, livability and opportunity. With that backdrop, Frayser residents and Memphis 3.0 representatives discussed topics such as economic growth and desired improvements for Frayser.
Ashley Cash, comprehensive planning administrator for the City of Memphis, hopes the process will spark dialogue about resident's expectations for their community and for Memphis.
During the meeting, Cash heard residents voice concern and interest in eliminating blight, being a better-connected community and having better transit options.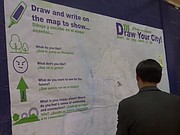 John Zeanah, deputy director of the Memphis and Shelby County Division of Planning and Development, said that Frayser residents also expressed concern about improving parks and community gardens and becoming more connected to Memphis.

Steve Lockwood, executive director of the Frayser Community Development Corporation, said the meeting was "our opportunity to give instructions to the city about what we want to see.
"It's a really great start for us to give instructions to the city about how they can help us accomplish what we want to accomplish out here. I think (I want to see Memphis 3.0) bringing more development and density into Frayser," said Lockwood.
"This is a good location. We have square miles of available land, and this should be a prime focus for the city to bring development."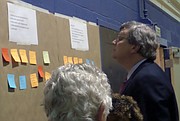 Mayor Jim Strickland called the meeting the start of something deeper.
"The goal is to make all Memphis neighborhoods better," Strickland said. "We'll have multiple meetings in Frayser where we'll really get in-depth with this neighborhood and how they (the residents) envision it to look in 10, 15, 20 years."
Stephanie Love, District 3's representative on the Shelby County Schools board, talked about the route for actually making improvement.