G☺☺D BLUE & Y☺U: Officer Jason True
On the first day school at Germantown High School, a familiar – and popular – figure greeted students. Germantown Police Department Officer Jason True, an 18-year veteran, has spent the last seven yea
Kelvin Cowans, Special to The New Tri-State Defender | 8/25/2016, 1:37 p.m.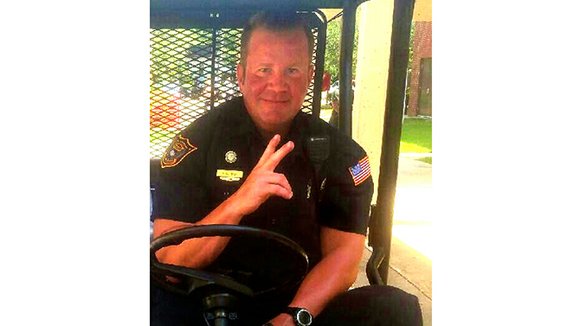 On the first day school at Germantown High School, a familiar – and popular – figure greeted students. Germantown Police Department Officer Jason True, an 18-year veteran, has spent the last seven years as the school's Resource officer. He's been the assistant basketball coach for ninth-grade boys and the head coach for the last three years.
Kelvin Cowans: What was it like to grow up as a child of a police officer?
Officer Jason True: My mom and dad were separated when I grew up, so I would visit Memphis in the summer time and spend time with my father. It was an honor to be a cop's kid. We didn't have some of the issues that we are having right now. Back then, officers were given so much more respect. The community really rallied around them.
KC: That surely had to be a great experience. So much so that you grew up to follow in your father's foot steps. You've been a police officer for quite some time now. You've had to have seen a lot.
OJT: It's been real man. I've seen everything from domestic violence, suicides, robberies and burglaries. The bad part is that they are even more common now in our area than they were in the past when I initially started.
KC: What is a commonality that you see in the people? Good or bad, you have to deal with people.
OJT: People are people and since day one I've always practiced to look past skin color. You have good people and you have bad people; that's life. Yet, there still is profiling going on in America and it's not right; and we've had a lot of bad shootings. We as law enforcement have to learn to treat people the right way regardless of their race.
KC: Where does the conversation begin for a better America between the community and law enforcement.
OJT: I believe it starts with us first, where these officers have to have proper training before they are put in the streets. I'm serious, they are lacking good training.
KC: Do you think the public truly knows the definitions behind police terms or the ranking of officers that arrive on these scenes?
OJT: I'm positive that the majority does not. Which in turn also means that the respect level is not there for what we do as well.
KC: Speaking of respect, you're coaching high school basketball and it is evident that you have gained the respect of these kids by being heavily involved in their lives. What made you want to get involved with coaching high school sports?
OJT: I played basketball for four years at Winter Park High School. Still, my biggest reason was because a lot of these kids don't have that male role model at home. When they need to talk, I'm there. And if they're hungry, I feed them. I'm trying to get them to grow into great men of character without all of the distractions.
KC: Your efforts are greatly appreciated. Tell me, what does a good weekend look like for you? How do you relax from such a strenuous occupation? You're married to the beautiful Jennifer and you have two wonderful kids, Austin eleven years old and Parker is three. How is family time for the True family?
OJT: We go swimming, we cookout or we might go to Chuck E. Cheese. We keep it simple but we do have plenty of fun. We're just like any other family you know.
KC: I got a couple of short questions and I'm done. What's your favorite food?
OJT: Steak.
KC: Favorite rapper?
OJT: Tupac!
KC: Ha! Your favorite country singer?
OJT: Kenny Chesney. And just know that I love all kinds of music. I listen to it all.
KC: Favorite NBA team?
OJT: Golden State Warriors.
KC: Favorite MLB team?
OJT: Saint Louis Cardinals.
KC: I'm a wizard, here's my magic wand. What does Officer Jason True remove from America?
OJT: Racial inequality. It's all ignorance. If we get rid of it, we will be in a better place.
(Join the Good Blue & You Facebook Fan Page! Kelvin Cowans can be reached at (kelvincowans@hotmail.com)