Elvis hymn, yes; black lives matter chant, no?
Protesters assert rights violated outside Graceland.
Tony Jones, Special to The New Tri-State Defender | 8/18/2016, 12:21 p.m.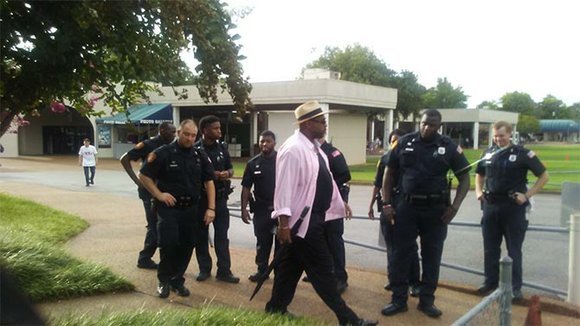 Activists protesting at Graceland Monday night were shown a line and told not to cross it.
The line was the foremost boundary of a protest area that the Memphis Police Department designated for members of the Coalition of Concerned Citizens (CCC) and their supporters. With CCC having issued a public summons for support of a protest on the night of the annual Elvis Presley candlelight vigil, MPD officials had predetermined that demonstrators would be kept at a distance.
The enforcement of that position has given way to the question of whether the MPD violated the Constitutional rights of the CCC and its supporter by denying them entry into the candlelight vigil at Elvis Presley's Graceland?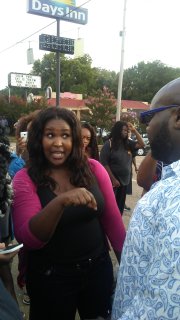 CCC's Christian Kirk said legal action might follow.
"Nobody's down here with signs, nobody's down here with noisemakers, as you can see," she said Monday night. "We were rejected solely on skin color. Even some white people were turned away from walking with black people. This is unprecedented. This is still public land and you cannot deny someone access to them because you disagree with their speech. It's very disturbing."
A short while later, Kirk engaged in a heated exchange with Berlin Boyd, the City Council member for District 7. Boyd said he had come to support CCC and to "try to keep the peace the same way the bridge ended peacefully." That was a reference to the conclusion of the protest that shut down the Hernando DeSoto Bridge for several hours on the evening of July 10.
CCC supporters blasted Boyd with criticism and information, uploading the debates on YouTube.
"The issue is what criteria they are basing access on," Kirk told him. "You need to call some of your city council buddies and get them down here!"
The difference in access permission became visible when Jeffrey Wolfe, 61, tried to go into one of the Graceland gift shops "to get a Coke." He was turned around.
"They assumed I was part of the protest because I am black. I live just a few blocks from here and I often come to the Elvis celebration. I've even sold water to them. I have Elvis memorabilia at my house," Wolfe said.
He complained about what he called MPD's confrontational manner, clearly aroused when an officer told him to leave.
"You don't tell grown folk to leave," said Wolfe. "You can ask me to leave and I can comply or not comply. I think sometimes they push issues because they want things to escalate."
Wolfe was among the first of the arrivals to the corner where the demonstrators gathered. Like many others, he came from the direction of Whitehaven Plaza. He was not carrying any signs nor chanting.
Three demonstrators were arrested: Gregory Thompson, male black, 23, criminal trespass; Kauz Spencer Curtis, male white, 20, criminal trespass; and Dana Asbury, female black, 31, criminal trespass, disorderly conduct and inciting riot.
After being warned at least twice by MPD officers and Boyd, Curtis had tried to go around the police line. Quiet but resolute, Curtis continued to try, resulting in his arrest.