How to win a playoff game with spoons
Lee Eric Smith, lesmith@tsdmemphis.com | 4/21/2016, 12:54 p.m.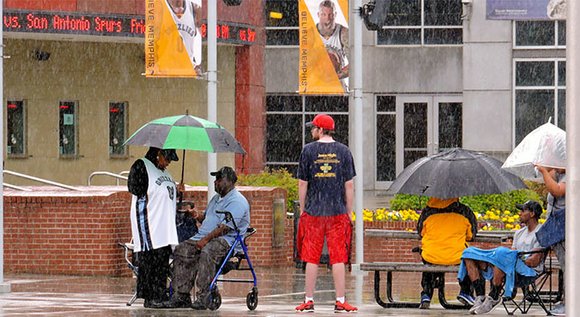 Spoons.
Here I am, telling my buddies that in their first round series with the San Antonio Spurs, the Memphis Grizzlies are bringing a knife to a machine-gun fight. I'm trying to be polite, by indicating that the Grizzlies at least have a weapon, even if they are still outrageously overmatched.
Not only did the Spurs manufacture a 32-point blowout against the Grizz in Game 1, they basically Xeroxed their performance in Game 2 on Tuesday, a 94-68 Spurs win. And afterwards, Grizz forward Matt Barnes abandoned tact altogether. He admitted that the Grizzlies don't even have weapons.
"We're coming to a gunfight with some spoons," he said, shaking his head.
Now, the series shifts to Memphis for what will be the last two games of the season. All that can be said about the series – and the season – has already been said. Despite their valiant efforts, the sum of the Grizzlies' injuries have finally and inexorably doomed their season.
These last two games will be 96 minutes of dribbling out the clock. And even if the Grizzlies miraculously pull off a win in this series, there's no way San Antonio will allow a Game 6.
"I just want to go down swinging," Barnes said.
Here's what I wrote earlier this week as a preview of Game 2. I'm literally going to cut and paste it for the remainder of this series:
(The Memphis Grizzlies) are not going to steal Game 2 from the San Antonio Spurs in this first round series. This series is so lopsided that even the "scrappy underdog" role doesn't fit the team from the gritty little city on the bluff.
They will try to solve the Spurs riddle, and most likely they won't. Memphis will play hard – they always do – but they will make mistakes, and the Spurs will make them pay. They will miss shots, and the Spurs will make them pay. And in all likelihood, Spurs Coach Gregg Popovich will rest his stars in the fourth quarter, while nursing some insurmountable double-digit lead.
And yet, this section is for keys to the game – how the Grizzlies could win. That would take a series of nigh-impossible events. Just for kicks, here they are:
Popovich forgets it's the Playoffs and rests his starters. Here's hoping Pop has a senior moment, and tells Tony Parker, Manu Ginobili, Kawhi Leonard, LaMarcus Aldridge and Tim Duncan to have a seat next to him. What's funny (and sad) is that Popovich would still be able to roll out Paddy Mills, Danny Green, David West, Boban Marjanovic and Kevin Martin. But at least it'd be competitive for more than the first half, right? This would be worth it just to watch the sideline reporter ask Pop's one word answer when asked why his stars aren't playing: "Playoffs?"
Memphis bombs away from the arc. The Spurs are following the same recipe they've followed for five years: Swarm Zach Randolph, wait for other guys to miss perimeter shots (and maybe layups). If Memphis hopes to extend the series, Vince Carter, Matt Barnes, Lance Stephenson and maybe Z-Bo himself will all need to start off blazingly hot from the three-point line – like 55 percent on 27 attempts. And stay that way for 48 minutes.