#memphis4flint effort culminates with student muscle
Karanja A. Ajanaku, kajanaku@tsdmemphis.com | 4/19/2016, 1:53 p.m.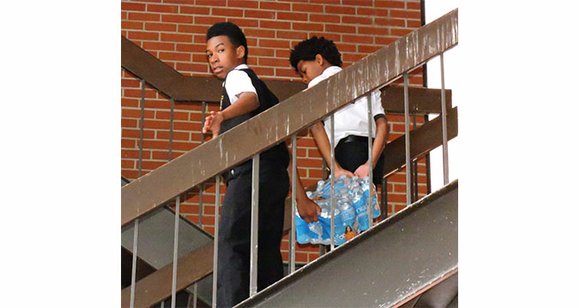 Dacharius Brooks, a seventh-grader at the Memphis Academy of Health Sciences, got a muscular education on Monday. He was among a cadre of MAHS students and 100 Black Men of Memphis mentees who spent half of a day helping ship water to the needy in Flint, Mich.
Up and down steps from the second floor of The New Tri-State Defender office on Beale Street, and repeatedly filling an elevator with cases of bottled water, Brooks and his peers practiced what they are being taught – to have "a heartbeat for the community that they reside in."
"There is a water crisis (in Flint). The water is contaminated and they don't have any purified water" said Brooks, ascending the stairs after delivering a case of bottle water. "This idea (of giving water) is just great because we can give back and let people have and experience what they had."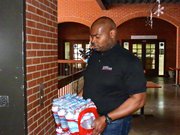 Bernal E. Smith II, President and CEO of The New Tri-State Defender, said it was great to have the young men "exemplify community service" and help culminate the #memphis4flint effort, which started in January.
"It is a great way to show the community that there are a lot of our young men that are doing positive things," said Smith, "and understand the importance of serving others."
Smith commended the array of partners involved in collecting water and getting it to those in need in Flint. Those partners include the City of Memphis, MLGW, FedEx, New Direction Christian Church, Greater Love Miracle Center Church, AT&T Call Center, Frayser Achievement School District, MAHS, Shelby County Schools, Sigma Gamma Rho Sorority and "so many others in the community, " he said.
The myriad individuals who made commitments included Donna Houston D'Boyata, who has a host of relatives and friends in Flint. She put out the need for help and was humbled the cases upon cases of water the poured in. With a pickup truck and the help of friend, she orchestrated the transfer of the cases to the TSD office.
There were others.
"The young lady who comes and buys coupons from us was inspired when she saw the water in our office and went out and brought back 30 more cases of water," said Smith.
"So many in the community joined us in this effort and I am excited that we have responded to the need of our brothers and sisters in Flint. It shows that when there is a need we can and will respond.
Monday's shipment was the last in the #memphisforflint effort and "brings us to right at about 2,000 cases of water," said Smith.
The Rev. Derrick Joyce, a member of The 100 Black Men of Memphis and director of administrative operations of the Memphis Academy of Health Sciences, said, "The 100 Black Men of Memphis are grateful for the vision of Mr. Smith and The New Tri-State Defender to bring some balance to a situation where there has been some injustice, quick frankly, as it relates to the people, their conditions and the lack of quality drinking water.