Tigers get their man: Tubby Smith as Head Coach
University of Memphis | 4/14/2016, 1:56 p.m.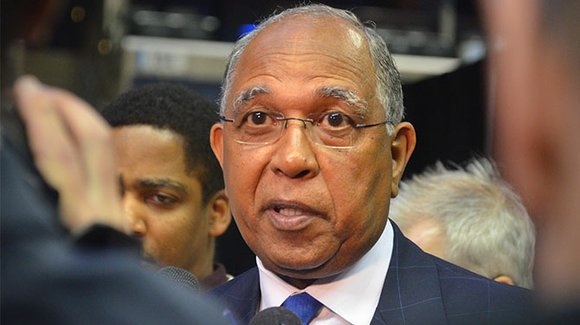 Legendary basketball coach Orlando "Tubby" Smith, who guided the University of Kentucky to the 1998 NCAA title, has been named the 18th head coach in the storied history of the University of Memphis basketball program.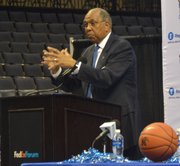 Smith, who has a 557-276 career record at Tulsa, Georgia, Kentucky, Minnesota, and Texas Tech, is a three-time National Coach of the Year, and most recently The Sporting News National Coach of the Year and Big 12 Conference Coach of the Year in 2016. During a 10-year span between his tenures with three different programs (Tulsa, Georgia, and Kentucky), he advanced his team to the NCAA Tournament Sweet 16 or beyond eight times.
"A historic hire for the University of Memphis," said President M. David Rudd of Coach Tubby Smith. "He is the most accomplished coach the UofM has ever hired. For the University of Memphis and our basketball program, Tubby Smith is simply the right guy at the right time."
"Tubby Smith is one of the finest collegiate basketball coaches and is a man of tremendous character," said Memphis Athletics Director Tom Bowen. "Nationally, he is highly respected as a leader of young men and as a teacher of the game. I am honored that Coach Smith has agreed to become the next head men's basketball coach at the University of Memphis."
He has led teams to one National Championship, four NCAA Tournament Elite Eight appearances, nine NCAA Tournament Sweet 16 appearances, and 17 overall NCAA Tournament berths. He has coached 13 NBA draft picks and 22 former players have gone on to play in the NBA.
Last season, Texas Tech made the program's first NCAA Tournament appearance since 2004-05, finishing with a record of 19-16. For his efforts in turning around the program – which included a 9-9 mark in a strong Big 12 Conference – he was named the Big 12 Coach of the Year, in addition to being named The Sporting News National Coach of the Year.
Smith's contract with the Tigers is worth $15.45 million over five years, including $2.8 million in 2016-17, $2.9 million in 2017-18, and $3.25 million in the final three years.
As an assistant and head coach, he has been a part of 758 collegiate wins and 23 trips to the NCAA Tournament since he began his collegiate coaching career as an assistant at Virginia Commonwealth in 1979.
He earned an Olympic Gold Medal as an assistant coach at the 2000 Sydney Olympic Games as a member of the United States men's basketball coaching staff, working with Olympic team head coach Rudy Tomjanovich. Team USA posted a perfect 8-0 record.
He spent seven seasons as an assistant at Virginia Commonwealth from 1979 until 1986, helping to guide the Rams to five NCAA Tournament appearances, before moving on to South Carolina.
In three years in assisting the Gamecocks (1986-89) where he worked with head coach George Felton, he helped lead the program to its first NCAA Tournament appearance in 15 seasons (last time had been 1973-74).