AFRICA IN APRIL
Dr. Sybil C. Mitchell, Special to The New Tri-State Defender | 4/14/2016, 1:47 p.m.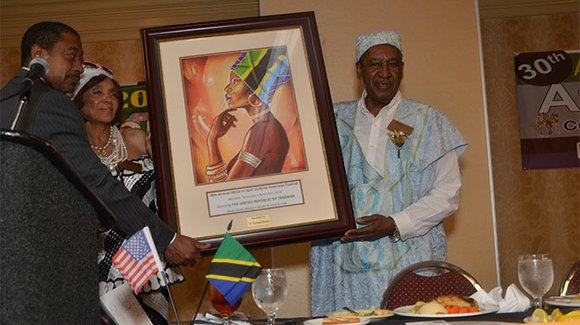 Every year since the mid-80's, festival lovers, both locally and from abroad, have gathered to celebrate the colorful intrigue of African culture. Thousands are expected to converge on Robert Church Park in Downtown Memphis for the 2016 Africa in April International Festival this weekend.
The Republic of Tanzania will be honored, with its breathtaking beaches, culturally diverse peoples, and historic legacy of securing independence from colonialists without war. Its politics and progressive economic growth as well as its music, traditional dance and creative arts will all be on display.
"We always strive to make the Africa in April experience more than just entertainment," said Executive Director David Acey, who oversees the event with his wife Yvonne Acey, the associate director. "We want our children, especially, and everyone to understand the wealth of diversity of Africa's many different cultures and countries."
Native music forms, traditional dance, authentic performance art, storytelling, hand-made crafts, food vendors and staged spectacles over the years have made Africa in April one of Memphis' most anticipated annual celebrations.
"It has been a great challenge, and many times, a tremendous struggle to keep the festival alive," said Dr. Acey. "But this is something we were committed to from the very beginning. Africa in April did not begin with a $500,000 grant, or funding in any amount. It was a concept, an idea we nurtured to help our children know and understand the history of their own people."
The struggle has been worth it, said Acey. "It's an international festival now. The Republic of Senegal was featured in 2013, and visitors from that country still come to visit during the festival. We're looking forward to Africa in April for the next 30 years."
The roots of Africa in April lead back to the belief that, "If our children were taught about their own people – where they came from, the heritage of our music and artistic expression – if they had some sense of history and legacy that would change their outlook," said Acey. "And I truly believed that if our children were actively engaged in learning about our people, it would make a world of difference."
The Republic of Tanzania…
• The official language is Swahili, but there are over 120 languages spoken there.
• Tanzania has the largest concentration of wildlife in the world – more than four million, representing 430 species and subspecies.
• Mt. Kilimanjaro, the highest mountain in Africa at 19,341 feet above sea level, is located there.
• There are 162 living tribes in Tanzania.
• The moon can shine so bright in the open sky that no flashlight is needed.
• Time is different in Tanzania. The workday starts at 6 a.m. but is called "the first hour." So when church begins at 10 (or the 10th hour), it actually means 4 p.m.
• Tanzania shares its national anthem with South Africa and Zimbabwe – "Mungu lbariki Afrika" – translated means God bless Africa.
• Tanzania is the home of the coconut crab, the largest in the world, found on the island of Zanzibar.