G☺☺D BLUE & Y☺U
Kelvin Cowans, Special to The New Tri-State Defender | 4/9/2016, 10:39 a.m.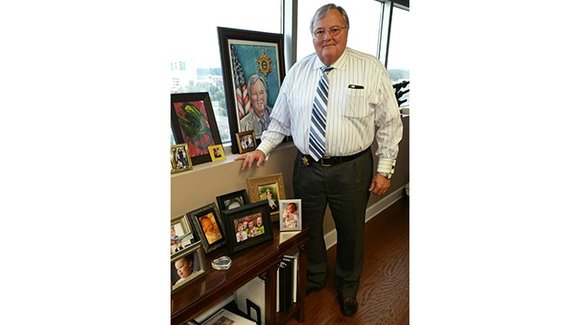 (Just as a neighborhood should not be judged by the actions of a few bad apples, neither should law enforcement agencies. The New Tri-State Defender's "Good Blue & You" column spotlights law enforcement officers who do it right. This week's focus is on Shelby County Sheriff Bill Oldham, whose accolades include being nominated and selected by his peers [94 sheriffs of Tennessee] as the 2015 Sheriff of The Year for the State of Tennessee.)
Kelvin Cowans: …Looking back on your run for Shelby County Sheriff, how was that experience?
Sheriff Bill Oldham: When I won the first run for sheriff that victory was hard fought, I mean it was close. I was hoping and praying that I would win of course. With the work we put in I thought it was good and that it was time for the people to speak from this county and they did.
KC: I remember the podium being completely full of your family after that victory. What was that like?
SBO: Oh man, what a feeling to have your family with you for a campaign like that. Not only was it hard on me, it was also hard on my family. (When) Mark Luttrell decided not to run for sheriff there was only like three or four days left for those who wanted to run to get your stuff submitted to Nashville. So the first thing I did was call my wife and we called a family meeting for that night. I told them what I would like for them to do. The only person that spoke out against it was my son because he was concerned about politics, as I was. I'm not a politician and that was a first-time endeavor for me.
So in victory it was a really great feeling, as we had done our best and the constituency had rewarded us by allowing us to move forward. The second run was even better as we had gathered the support of people from all over the community, which reflected the footwork and bridge building we'd done in my first administration.
KC: …(Heavy) is the head that wears the crown. How do you turn work off?
SBO: Once you reach a certain level it's 24/7 and 365. When you're on that command staff or when you're running the place, there's always something going on. With our organization being as big as it is with the pre-conviction facility, Jail East, there's always something. My phone is usually going off several times a night. Some issues may be as simple as I need to be advised or they may need a decision about something from me.
KC: …So still on the clock but winding down. What does that look like for Sheriff Bill Oldham?
SBO: I love reading. That's something I developed early in grade school and I've continued.
KC: Favorite book?
SBO: Oh God, anything from Tom Clancy, David Baldacci and Robert Ludlum. I also like biographies, periodicals and true history; I'll read those to the end. I read from cover to cover. What was drilled into me by parents is you need to learn something every day. They would tell us that you need to stay in tune to what's going on around you. That, along with my other hobby of coaching sports.