G ☺☺D BLUE & Y☺U
Major Dana Sampietro.
Kelvin Cowans, Special to The New Tri-State Defender | 10/23/2015, 1:47 p.m.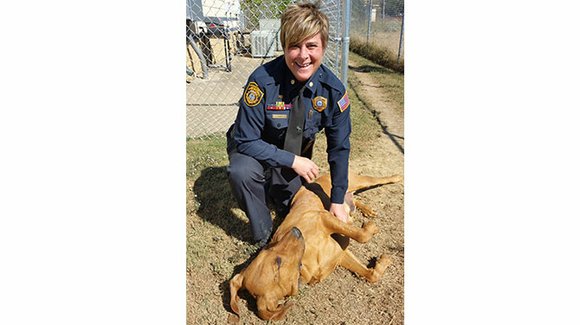 (Just as a neighborhood should not be judged by the actions of a few bad apples, neither should law enforcement agencies. The New Tri-State Defender's "Good Blue & You" column spotlights law enforcement officers who do it right. This week's focus is on Major Dana Sampietro of the Memphis Police Department Canine Unit.)
Major Dana Sampietro of the Memphis Police Department Canine Unit is tough as nails. A 1989 graduate of the University of Tennessee-Martin, Sampietro, a psychology major, literally spiked her way through that phase of her life while on a four year volleyball scholarship.
To speak with her is to feel her passion, purpose and confidence while taking in a trademark smile. Her life of service began as a Youth Village counselor, where for roughly three years she assisted with adolescence juvenile boys and girls with various behavior disorders –conduct, depression drugs and more. Some were victims of physical or sexual abuse.
Sampietro took the position quite seriously, personally wanting to do something to apprehend the people mistreating those children. Later, she answered a newspaper ad to join the police academy. She graduated number one academically (1993).

Now 22 years later, Sampietro has climbed the ladder from patrolman to major.
Major Dana Sampietro: When somebody tells me I can't do something, that's exactly what I set out to do. Joining the force was a challenge and it was one I was up for. I was a patrol officer for about four years in North Memphis, which is now the Old Allen Station. I also did a little bit of uniform patrol at the Crump station as well back then, around about the Lamar Terrace and Lemoyne Owen Gardens area at the time.
Then I got called up to the Organized Crime Unit to do narcotic-type investigations and vice work as well. I spent about eight years over there working as a narcotic investigator/detective and that was where I got into narcotic detector dogs. I was a handler. I had a drug dog named "Bo," who's actually no longer with us but was a great dog. He did a lot of work with the D.E.A., T.B.I., Postal Service, FedEx and he also placed 11th in the nation at the National Narcotic Dog Association. I basically just held the leash and that dog did it all. He was an amazing animal.
Kelvin Cowans: So, you guys use different dogs for different situations, correct?
Major Sampietro: That's correct. We have dual-purpose dogs. We have explosive-detector dogs, narcotic-detector dogs and all of the dogs are apprehension dogs. We have Labrador Retrievers, German Shepherds and Malinois. Now Malinois are just a smaller version of the German Shepherd, they're just a little more agile and quicker. The German Shepherds are for violent felony suspects like your murderers, rapists, burglars, bank robbers, business robbers; you know, bad guys. Those dogs will track you down and are trained to bite and hold until the officer is able to put the handcuffs on you. So if you steal a pack of cigarettes, we're not bringing out the dog to find you.