Hillary Clinton: Better for black people than Obama?
In an exclusive for The New Republic, Michael Eric Dyson writes of his conversion from skeptic to sold on the notion that Hillary Clinton is the real deal on race.
Michael Eric Dyson, The Root | 11/30/2015, 11:33 a.m.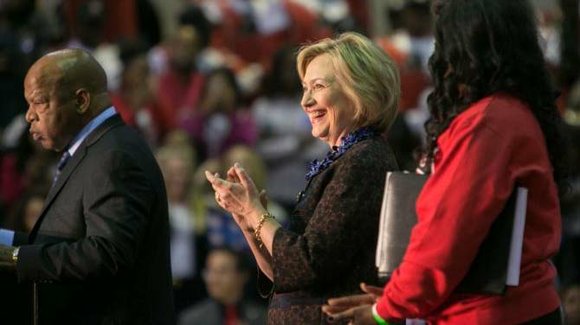 (Editor's note: In an article titled Yes She Can, a play on President Obama's inspiring 2008 campaign slogan, Michael Eric Dyson writes for The New Republic of his conversion to a belief that Hillary Clinton will do more for black people than the president himself. Calling himself a skeptic after a series of questionable incidents involving Clinton and her husband beginning with the bruising 2008 primary race that raised the ire of black voters in South Carolina and elsewhere, Dyson accepted an invitation to spend three days on the road with the Clinton campaign and details what he saw (sometimes in her body language) and heard in conversations with activists old pols and preachers. Here's an excerpt.)
There is good reason to be skeptical about Hillary Clinton and race. It's never been anything explicit, necessarily, but she has sinned in the realm of signification, the place where innuendo and plausible deniability live. Let us start with her first presidential campaign in 2008, and the infamous "3 a.m. phone call" television ad that so spooked folks in the nation's white hinterland. "It's 3 a.m. and your children are safe and asleep," a concerned narrator intoned. "Who do you want answering the phone?"
On the surface, there was nothing especially racially troubling about an advertisement that said the nation's first female commander in chief had the chops and bravura to answer the call. But to seasoned observers of racial coding, myself included, the image of innocent sleeping children and a nervously attentive mother evoked an uglier racial epoch. "I couldn't help but think of D.W. Griffith's Birth of a Nation … with its portrayal of black men lurking in the bushes around white society," Harvard sociologist Orlando Patterson wrote in The New York Times. "The person answering the phone might be a black man, someone who could not be trusted to protect us from this threat."
Then there was the time that Clinton, having lost the 2008 primary in North Carolina, pointed out that "Obama's support among working, hardworking Americans, white Americans"—my emphasis—"is weakening again, and how whites in both states who had not completed college were supporting me." When pressed about the racial undertones of her comments, Clinton was defiant. "These are the people you have to win if you're a Democrat. … Everybody knows that."
Or the debate dustup with Obama that year over the role of Martin Luther King Jr. in bringing about social change. "We don't need to be raising the false hopes of our country about what can be delivered," Clinton said. After the debate, Obama responded that hope inspired John F. Kennedy to put a man on the moon and allowed King to imagine the demise of segregation. "Dr. King's dream began to be realized when President Johnson passed the Civil Rights Act," Clinton later said on Fox News. "It took a president to get it done. The power of that dream became real in people's lives because we had a president who said we are going to do it, and actually got it accomplished." Never mind the black-led social movement that forced Johnson to act, nor the pregnant political moment that was brought into being because of King's fierce eloquence. I was angered by her presumption, and I wasn't the only one.