Clinton breaks ground in Memphis ahead of March primary
Courting elements of the Democratic Party base, Clinton reaches out during stop at The LeMoyne-Owen College.
Karanja A. Ajanaku, kajanaku@tsdmemphis.com | 11/21/2015, 2:13 p.m.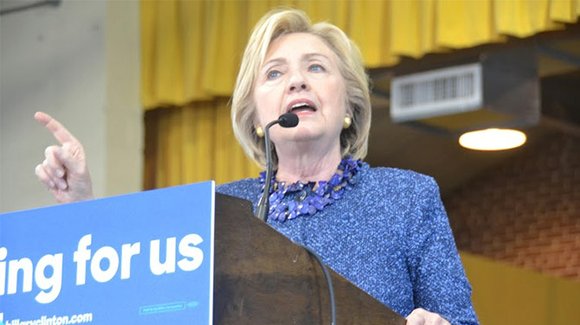 Rhoda Scruggs-Jordan held her mother's arm and guided her warily across Walker Street in front of The LeMoyne-Owen College after going to see and hear Hillary Clinton.
At 83, the diminutive Gertrude Scruggs, happily received her daughter's support. Born and raised in Memphis, mother and daughter are a team, as was evidenced by the trek to the gymnasium in C. Arthur Bruce/ Jerry C. Johnson Hall on LOC's campus Friday afternoon. The attraction was a no-brainer.
"To see Hillary," said the elder Scruggs, whose view of the former secretary of state, and first lady was blocked by a forest of people standing as the Democratic Party presidential hopeful spoke to the gym-filled crowd. "I did not see her, but I heard her."
Scruggs-Jordan, 55, said after mother lived to see the first African American to serve as president she did not want her to miss seeing perhaps the first woman elected to the office.
For Clinton, stalwart Democratic Party voters such as Scruggs-Jordan and her mother are essential to success. While her nomination is pretty much assured barring a train wreck, the Democratic Party base must turn out big time if she is to get past the Republican Party challenge. And the state's Democratic Party, which has been awash amid a red Republican sea in recent years, really needs her to draw well to help its fortunes next November.
Tennessee's primary is March 1 and the Memphis visit was a stop on her first swing through the state ahead of that showdown.
"Definitely (we're Democrats)," said Scruggs, a Tennessee State University graduate who taught at schools in Memphis for 30 years before she retired. "All our lives we've voted Democrat."
For Scruggs-Jordan, pinpointing what stood out from Clinton's speech at the Memphis-based HBCU was easy.
"The issue with student loans," she said. "My son just graduated from college (Morehouse). Fortunately, he had a scholarship. But all of his friends…they now are six months out and student loans are starting to hit. It's a different world for them now. They are facing real life obstacles."
As she rolled out the planks of her platform, Clinton said one of the most important tasks is to "make sure all of our people, young and not so young are well prepared for the jobs of the future. That's why institutions like this are so important. I have something called the New College Compact, so that you do not have to borrow money to pay tuition when you go to college."
Vowing to do more for HBCUs, she said, "We have got to get the cost down, but then we have got to help people repay the debt they already have. I meet young people across the country who are paying thousands, thousands of dollars that they borrowed."
It should be possible, said Clinton, to refinance college and student loans.
"And then we are going to save you thousands of dollars by making it possible for you to repay it as a percentage of the income you make when you get out of school…."