Lyfe is Dope
Musical duo aims to showcase local and national talent.
Brittney Gathen, Special to The New Tri-State Defender | 11/19/2015, 2:44 p.m.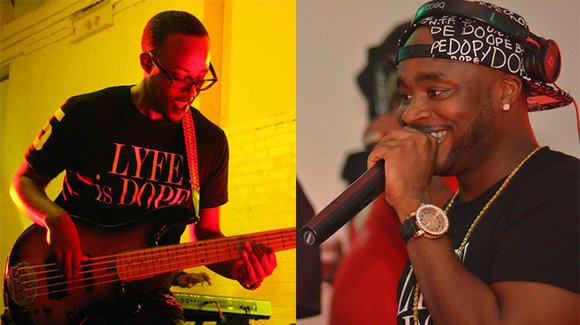 Memphis will have access to some "dope" national and local talent just in time for Thanksgiving, thanks to two musical Memphis natives.
Lyfe is Dope – a production and clothing company – will host its second "Jam Session" on Nov. 25 at Minglewood Hall. In just two years, the event has become the region's premiere hip-hop music, arts and culture event, attracting more than 2,000 attendees.

This year's lineup includes Project Pat of Three-Six Mafia; crunk rappers Lord T and Eloise; and the DJ duo Late Shift, comprised of Red Bull DJ Charlie White and DJ Crumbz of Q-107.5 FM. There will also be additional music acts at the multimedia Jam Session, and the event will feature visual arts, filmmakers, dance crews, fashion designers and food prepared by Chef Kenna.
Unsigned artists may also get exposed to industry brass. Representatives from Epic Records have scouted talent at similar Jam Sessions, as have local labels Macktown Records and Select-O-Hits.
The event was founded by Damien "DJ Dnyce" Woods and bassist David Parks. Both musicians felt there was a void in events showcasing all forms of quality art from the urban community. Woods, a DJ for K97, Club 152 on Beale Street and for Red Bull, said that the event will allow people to learn more about the arts scene in Memphis.
"They'll take away the talent that Memphis has on all levels," Woods said. "You get a feel of the Memphis arts scene without going to 10 different clubs. We're bringing everything to one venue."
Woods and Parks came up with the idea while Parks was in New York working with Justin Bieber. After seeing the different events that were offered in places outside of Memphis, they decided they wanted to bring a similar event to the Bluff City.
"Sometimes Memphis can be behind creatively," Parks said. "Sometimes I think that we look back at what we did, rather than what we're about to do. That's one thing about Lyfe is Dope – we want to make sure we continue to progress and not be held back by any norms of what people expect."
Parks, a bassist for singer Jason Derulo in Los Angeles, said that paying his dues in the musical mecca of Memphis has paid off in his career.
"Whenever I tell people I'm from Memphis, and I tell them I'm a musician, they say, 'You must be good,'" Parks said. "The reason that they do that is because Memphis has such a rich legacy of music. Sometimes Memphians take that for granted. This is the place where I honed my skills. I have been able to create a life for myself and do something that I love."
Parks also hopes that Lyfe is Dope brings Memphians together from all backgrounds – the same way hip-hop has around the world.
"Music is known as a universal language for a reason," Parks said. "It's a thing that brings us all together no matter what color.
"Lyfe is Dope has done a good job of blurring the color line that can be apparent in Memphis at times, whether we want to admit it or not," Parks continued. "We've done a good job of including everybody and not having any prejudices. If your music is good, then you have a chance to get in the show."