Were my black ancestors deployed with the French in WWI?
Tracing Your Roots: How to find proof of military service during a time when troops were segregated and the fight was waged both abroad and at home.
Henry Louis Gates Jr. and Aaan L. Todd, NEHGS Researcher | 11/13/2015, 1:24 p.m.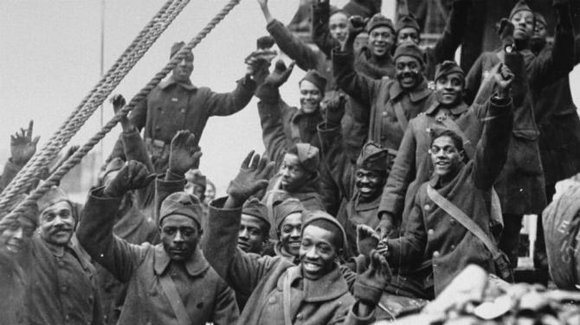 Dear Professor Gates:
I'm trying to find out if my grandfather and great-uncles fought in World War I and if they were assigned to the French army. My grandfather was Webb A. Owens, born in 1899 in McComb, Miss.; his brother Wallace Owens was born in 1896 in McComb, Miss.; his brother Philip Demoulin was born in New Roads, La., on March 19, 1897. Any information will be appreciated. —P.J. Owens
Yours is a fitting question during a week that includes America's annual celebration of its veterans. As a 2003 article in the Army Historical Foundation's On Point magazine noted, during World War I, there were four all-black regiments: the 9th and 10th cavalries and the 24th and 25th infantries. The troops in them, however, were not being used in combat roles; many were, instead, relegated to labor roles in U.S.-controlled territories.
Mounting pressure within the black community for the chance to prove their bravery led to the creation of two African-American divisions, the 92nd and 93rd, which were deployed to serve with the French overseas. The best-known regiment of the 93rd Division was the 369th Infantry Regiment, also known as the Harlem Hellfighters. As covered on The Root in 2013 in the column 100 Amazing Facts About the Negro, the regiment's soldiers fought at Château-Thierry and Belleau Wood in France, spending 191 days in combat—longer than any other American unit in World War I.
The Hellfighters' valor was celebrated in a parade up New York City's Fifth Avenue on Feb. 17, 1919, which was attended by hundreds of thousands of Americans of all races. The acclaim was remarkable, given that black men in uniform were often reviled and distrusted, to the point of being lynched.
Many in the crowd would have been eager to see a famed war hero among the 3,000 returning troops being feted that day in New York City. Pvt. Henry Johnson of Albany, N.Y., had been honored with France's Croix de Guerre in 1918; 97 years later, he would receive a posthumous Medal of Honor from President Barack Obama.
Did your relatives serve in World War I, and were they among those assigned to the 92nd or 93rd divisions?
What the Draft Cards Reveal
When you are researching family members who may have served in World War I, often the best place to begin your research is with the most easily accessible digitized collections. This is because you want to know as much as possible before attempting to obtain official records, which are often in less accessible archives or libraries.
With that in mind, we checked Ancestry.com's database U.S. World War I Draft Registration Cards, 1917-1918 (subscription required), which provides information concerning the residence, birth, employment and appearance of an individual, as well as, occasionally, whether or not he was claiming exemption from service for any reason. (FamilySearch has a free version of the database.)
We found that Webb Albert Owens, while born in Mississippi, registered for the draft in East Chicago, Ind. His registration card states that he was born Jan. 4, 1899, and his nearest relative was his mother, Mary Owens, of McComb, Miss. The teen was working as a laborer at the International Lead Refining Co. in East Chicago, which may have contributed to his relocation.