Exploring hip-hop culture – 'Pedagogy, community action and identity'
Probing panel discussion at Hattiloo.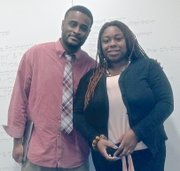 From being associated with criminality to being blamed for the decline of Christianity in America, hip-hop has gotten a bad rap. The desire to get at the truth of the genre was in full effect recently at Hattiloo Theatre.
Hip-hop's influence was probed during a panel discussion titled "Exploring Hip-Hop Culture: pedagogy, community action and identity." The event was part of Hip-Hop Appreciation Week, an annual celebration. Co-organizer Giovanni Dortch said the purpose was to showcase hip-hop as an art form.
"We wanted to do something in Memphis because Memphis has a definite hip-hop community that is very vibrant and active and we wanted to honor that, as well as celebrate the music and the community," Dortch said. "A lot of people are critical of hip-hop (and) a lot of people look at hip-hop as problematic. So what we wanted to do was show how throughout American culture, Memphis culture and African-American culture that hip-hop is an art form and it's an actual culture; not just music."
Hip-Hop and
criminality
The panelists for the May 19 probe were: Dr. Zandria Robinson, assistant sociology professor at the University of Memphis; Alex Turley, vice president of real estate at the Henry Turley Company, vice president of retail services at CBRE and a local deejay; Andria Lisle, public relations manager for the Memphis Brooks Museum of Art and volunteer DJ for 89.9 WEVL FM; and C'beyohn, a local hip-hop artist and member of the Memphis and Shelby County Music commission.
With local educator Jason "Da Hater" Harris as the moderator, the panel dove into hip-hop's often asserted association with criminality.
"Hip-hop was an alternative to being in jail or being a criminal, essentially," Turley said, making reference to Boogie Down Productions' 1987 album "Criminal Minded" as a socially responsible record.
Robinson described hip-hop as "the art that emerges as a political response to the problems and the conditions that exist in urban communities." It is, she said, seen as a problem, when it is a response.
A sociologist and ethnographer who studies communities, Robinson has researched hip-hop.
"In my work, I think of hip-hop artists as the researchers; they're our eyes into the community," said Robinson. "If we think about hip-hop as a teaching tool, we would learn a lot."
Asked how he resists the expectations of criminality in hip-hop in his music, C'beyohn said he aims to make relatable music.
"I think hip-hop is the mirror that America doesn't want to look into; it's a reflection of what's going on," C'beyohn said. "For me, it's important to have music that relates to people. It's important for me to touch all people, not just a certain demographic or area."
Hip-Hop and
appropriation
With artists such as Iggy Azalea and Macklemore as points of reference, the panel examined the concept of appropriation.
"The music business is like a plantation. You're working for 'the man' and you see very little results," said Lisle, alluding to a comparison of the music industry and a slave plantation highlighted in David Banner's lecture "The State of Hip-Hop," which he delivered at Rhodes College in 2013.