'DJ Grill Crashers' – traveling crash cookouts
Celebrity chefs and radio DJs partner with the National Pork Board to bring "healthy and delicious pork" to African-American BBQs across America.
5/27/2015, 11:23 a.m.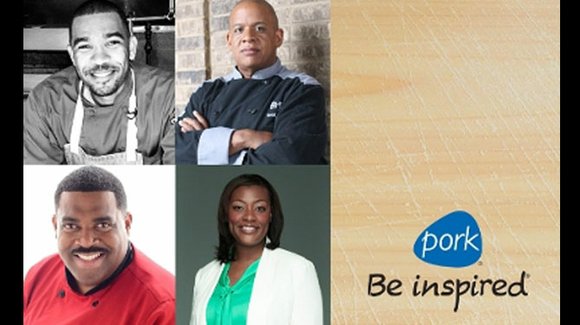 DES MOINES, Iowa (PRNewswire) – Summer signals the start of the grilling season and the National Pork Board (NPB) wants to encourage Americans to spice up this year's grilling celebrations with the unexpected flavor of lean, heart-healthy pork cuts.
Incorporating healthier options into everyday occasions is important – especially for African Americans who disproportionally suffer from several heart disease categories such as high blood pressure and high blood cholesterol.
"Pork should be a nutritious component of every family's diet, especially with the lean cuts available," said Celebrity Chef Tiffany Derry, a finalist on Season 7 of Bravo's "Top Chef and Top Chef All-Stars."
"One easy way to do that is by changing your cooking methods like grilling over frying to achieve a healthier meal," said Derry.
Derry is one of four celebrity chefs teaming up with the NPB for its African-American consumer campaign, "DJ Grill Crashers." The campaign aims to inspire African Americans to cook and enjoy pork in more creative and healthier ways.
"DJ Grill Crashers" is an extension of the National Pork Board's ongoing summer campaign, "The Grill Crashers," that launched last week. The campaign includes a series of "crashes" (or BBQ pork flavor takeovers) across the country where pork takes center stage at grilling celebrations as well as new pork-inspired recipes and tips. It also features the participation of comedic actor Donald Faison, an avid griller who will share how to create bold flavors on the grill with juicy, tender pork chops.
Chef Joseph Paire, executive chef of Todd Grays Watershed (Washington, D.C.), will kick off "DJ Grill Crashers" season in June followed by Todd Richards, executive chef and co-owner of The Pig & The Pearl (Atlanta), Reynold Darthard a.k.a Chef Rey, executive chef of the Houston Rockets, and Derry (Dallas). They will partner with radio personalities in their communities to crash BBQ cookouts and cook lean pork chop recipes with soulful side dishes.
"We are thrilled to partner with these four recognized chefs to bring the African-American community healthy, flavorful and inspiring pork recipes," said Jose de Jesus, director of multicultural marketing at the NPB. "We hope to inspire people to crash their own cookouts with pork and make it a memorable experience for their family and friends."
Recipes
Cider-Brined Porterhouse Pork Chops – Brushed with a maple syrup and hard apple cider glaze, they are recommended with sweet potato salad or fresh succotash; 290 calories, 7 grams of fat.
Saucy Salsa Ribeye Bone-In Pork Chops –Inspired by colorful Caribbean flavors; 200 calories, 8 grams of fat.
Sugar & Spice New York Pork Chops – Loaded with sweet and peppery flavors; 250 calories, 7 grams of fat.
Pina Colada Ribeye Bone-In Pork Chops – Tropical sauce; 180 calories, 7 grams of fat.
For best results, NPB recommends cooking pork chops to an internal temperature between 145 degrees F and 160 degrees F with a 3-minute rest. A digital thermometer is recommended.
(For more information, visit PorkBeinspired.com/GrillCrashers. Follow Pork Be inspired on Pinterest, Facebook, Twitter and Instagram and share photos of backyard crashes featuring delicious pork recipes using #grillpork.)
(Additional information at www.pork.org.)