7 changes you can make right now to get fit for summer
It starts with an attitude adjustment and ends with a good night's sleep – and the benefits will pay off all summer long.
by Ronnie Ann Darby The Root | 5/26/2015, 11:38 a.m.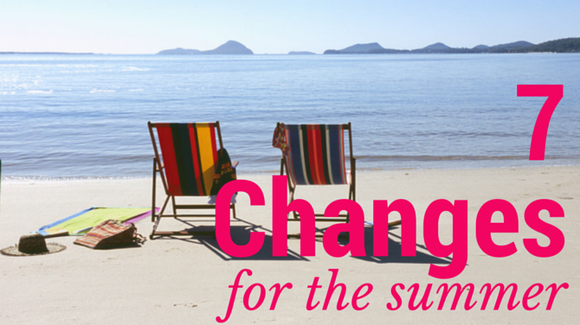 Spring may have taken its time this year, but I know what won't be lagging behind: summer. That's right; it's less than 30 days away, and once those pool-party invites start rolling in, there's no turning back. Point blank, you're going to have to show some skin.
So if you're already fretting about this season of endless sunshine or think you'll have to wait until next year to join the never-ending crop-top trend, you can think again. I have seven quick fixes that cost nothing but can change everything. Get ready to trade your spring outerwear for some swimwear!
1. Schedule an attitude adjustment.
That's right: The first thing you need to do in order to be summer-ready can't be found at the gym or in your kitchen. It's in your mind. In my 10 years of changing bodies, my No. 1 philosophy has always been, "Change your mind, change your body, change your life." I'm not trying to get all Iyanla: Fix My Life on you, but unless you truly believe you are worthy of changing your health and ultimately your life, then nothing I or anyone else says will matter.
Homework time. Wait, don't close your browser just yet. It will literally take 10 minutes and will honestly change the days leading to summer tenfold. Whip out your cellphone (try not to go on Instagram; I know it's hard) and open whatever "notes" app you have. Then write in all caps: "I AM WORTHY." Beneath this, write five (at least) reasons that you deserve to look and feel your best.
Listen, though; it can't be about anything materialistic or unrealistic. For example, you can't be like, "Because if I'm skinny, that hottie on the third floor will ask me out." You can, however, be like, "Because if I commit to eating healthier at lunch every day, I will have more energy to work on my dream project after work."
Knowing why you are doing something instantly fail-proofs it. So think hard, dig deep and schedule this attitude adjustment before you read any of these other quick tips (I promise, no more homework).
2. The 30-and-over club.
Let's talk about sweat. Maybe you hate it and maybe you love it, but if you want to see your body and health change for good, then you have to do it. In fact, commit to 30 minutes or more of sweat each day leading up to summer. Anything that pumps up your heart rate counts, so be creative, make it fun and get it done.
3. Sucka-punch sodium.
Water weight is real, and you can really drop it by limiting your daily amount of sodium. The maximum recommended level of sodium intake is 2,300 milligrams per day, but the average American consumes between 2,300 and 3,100 milligrams. Drop the saltshaker, reduce your consumption of processed foods and enjoy the natural flavor of fresh food.
4. Two-drink maximum.
I know the rule at your favorite comedy club is that you have to throw back at least two cocktails just to be there, but the rule at the "summer-ready club" is that you can only throw back two. Alcoholic beverages are not only a sure way to suck down empty calories; they're also a sure way to down a plate of nachos solo. The more we drink, the less we think. It's that simple.