Mother-daughter soiree grows with new partnership
Knowledge Quest and Universal Parenting Place collaborate to extend the circle of an already successful bonding event.
by Paula Anderson Special to The New Tri-State Defender | 5/22/2015, 12:07 p.m.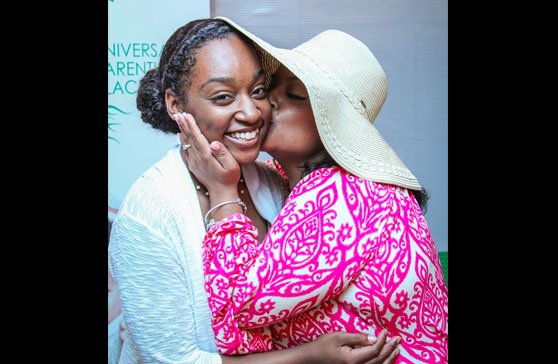 A really good idea about helping mothers and daughters bond became even better and bigger last Saturday (May 16).
Held at the Renaissance Center in College Park in South Memphis, A Mother and Daughter Soiree was a collaboration between Knowledge Quest (KQ) and the Universal Parenting Place (UPP). KQ, a South Memphis nonprofit, recently became one of only two satellite UPP sites, with the other located inside Baptist Memorial Hospital.
Latasha Mister-Echols, hospitality and activities coordinator for UPP at Knowledge Quest, said KQ for four years had hosted the soiree for parents in its afterschool program. Now the event is open to all parents throughout Shelby County.
The inspiration for the event came when Echols' mom died in 2007.
"My mother and I had a beautiful relationship and I desire that other mothers and daughters have that same closeness that we once shared," Echols said.
Since the inception of the program, Echols said, "ladies have voiced that they are encouraged, inspired and uplifted by attending the soiree." She believes it can help with the challenging everyday issues of parenting.
"The center's focus is prevention, NOT intervention," said Echols.
The soiree program opened up with a celebration about life, love and legacy. Connitta Hill, lead facilitator at Knowledge Quest talked about leaving a legacy to daughters. A portrait of a tree was created to symbolize the bond that mothers and daughters share. Natural mothers, daughters, mothers of sons and surrogate mothers all came up to leave a finger imprint on the tree as an expression of love and life.
Poet Melody Barham delivered a spoken word piece to inspire and motivate the mothers and daughters.
"You are naturally beautiful and God makes no mistake," she said.
Evangelist Latrice Ryan served as keynote speaker. She delivered a heart-felt testimony about her life story, sharing information regarding the birth of her child, who they said would be born with Downs Syndrome.
After hearing the diagnosis, Ryan decided to trust God and began to speak to the soon-to-be-born baby and against the diagnosis. She read to the developing infant and was determined that her daughter would be born healthy.
"Never agree with what society says," Ryan told her audience.
Her daughter, who she calls "Sunshine," was born completely healthy and now is a college student majoring in engineering.
Her message was also about self-esteem and self-worth.
"Your circle can add value or take value away," said Ryan, who let it be known that her daughter often talks about knowing one's value.
Jay Uiberall Culinary Academy prepared a delicious brunch for the mothers and daughters. Students from the academy served quiche, fresh fruit, shrimp gumbo with rice, salad and a banana pudding dessert.
KQ client Chakieda Henderson said she had never attended a mother-and-daughter event.
"I really enjoyed the soiree. I am inspired to do more things with my daughter and try to understand her as she enters the teenage years," said Henderson.
According to Echols, The UPP is open to all parents and at no charge. It provides families with professional guidance to prevent common child-rearing challenges from becoming chronic physical, emotional or behavioral problems.
"Parents are excited about UPP," Echols said.
Parents can receive professional counseling, information and emotional support for family-related issues or concerns. Individual consultations, group sessions and other special events are also available.
Starting in June, there will be mother and teen daughter group sessions every Thursday at 4 p.m.
(For more information, parents can call 901-207-3694 to set-up an appointment or visit the UPP website at www.shelbycountyupp.org.)