'Breaking News': D.A.R.E graduates 1,000 children;
Where was the media?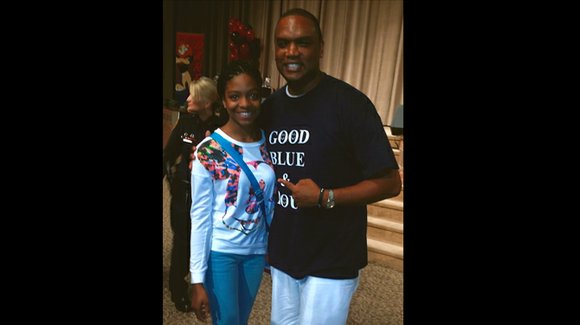 Cummings Street Missionary Baptist Church (8800 Winchester Rd.) echoed the sound of 1,000 happy graduates on May 8. The children – fourth-, fifth- and sixth-graders from several Shelby County Schools – had just competed the Memphis Police Department's 10-week offering of the national D.A.R.E (DRUGS ALCOHOL RESISTENCE EDUCATION) program.
The keynote speaker was Kelvin Cowans, a freelancer columnist/reporter for The New Tri-State Defender. Cowans, aka "Six~Four," boldly began his commencement speech with a direct focus on the lack of media presence on hand to congratulate Memphis children for doing right.
Here is an excerpt from his address:
"Where is the media now. The Memphis Police Department is graduating 1,000 children from a national program built on telling kids to say no to drugs and abuse and there is absolutely no media here.
"We have in attendance someone from Shelby County Schools, CEO George Little from Mayor (A C) Wharton's Office and a chief, majors and a host of Memphis Police Office patrolmen who put this event together. But where is the mainstream media to cover the story when these kids are doing something right? Where is the media to show these police officers singing songs, dancing and encouraging kids to do the right thing?
Where is the "Breaking News" now?
Had these kids stole some breakfast or wore a pair of red Jordans to the bus stop they'd surely broadcast it 100 times before 10 p.m. tonight, assuring us that these kids were on a fast track to prison. So where are you when they are graduating? Not being arrested, but graduating? Not beating people up at Kroger or a gas station, but graduating. Is that not news?
It's sickening to know that Memphis believes that their own children are only important if it can push a political agenda. And your local media lack of support of the good in our most precious cargo is sickening. There is an epidemic of selective reporting coming through our news media in this city and I say hold somebody accountable or turn that mess off and turn hope on.
Children, stand up and give yourself a standing ovation and stay up for a while because you had better believe that before the sun goes down today there is going to be "Breaking News" that one of y'all was jaywalking at the Zoo. And that makes me sick to my stomach because you guys' social behavior shouldn't be preyed upon for particular use as a product for TV ratings but (should be) a substratum to further the agenda for America's good!"
(Kelvin Cowans can be reached at kelvincowans@hotmail.com.)