Vivica A. Fox, Tyson Beckford & Robert Ri'chard – The 'Chocolate City' interview
Any truth to the rumor that Vivica's dating the hunky co-star who plays her son?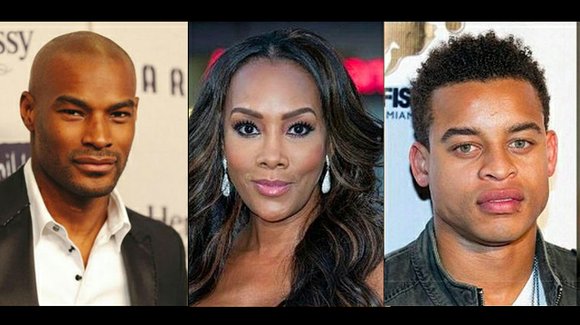 Vivica A. Fox, Tyson Beckford and Robert Ri'chard co-star in "Chocolate City," which is basically a remake of "Magic Mike." Director Jean-Claude La Marre explains that he felt an African-American variation on the male stripper theme was in order, given the absence of African-Amerian faces in the original.
This version of the tale revolves around a cash-strapped college kid (Richard) who hides from his mother (Fox) the fact that he's moonlighting as an exotic dancer at a neighborhood nightclub on ladies' night. The three recently spoke to me via a conference call about the film, and also about the rumors circulating in the tabloids of a steamy set romance between Vivica and Robert.
Kam Williams: Hey, thanks for the interview….Let me start off the interview with a question from children's book author Irene Smalls. She asks: "What interested each of you in Chocolate City?"
Tyson Beckford: I'll answer first, since I was the first to sign on. What interested me was the script. I loved how the characters showed their emotions. It made me feel for Robert's character [Michael], because I've been through that as a college student trying to make my way through life. And I did the whole topless waiter thing in a male revue before, so I knew I could connect with it. In addition, I found the idea of Jean-Claude [director Jean-Claude La Marre] building an entire cast around me kind of intriguing. I was eager to see what he would come up with. So, that's why I jumped in.
Vivica A. Fox: I'll be very honest with you, Kam. I had worked with Jean-Claude before and, when I heard that he was doing this, I went to see "Magic Mike." And I went, "Wow! How crazy is it that they don't have any African-Americans in this?" I felt that whoever makes this film African-American will win. Jean-Claude let me know he wanted me to play the mom and, when he told me about the cast, I said, "I'm so totally in for this." I've seen it, and it's awesome. It's a feel-good, girl's night out film that everybody will enjoy.
KW: And why'd you do the film, Robert?
Richard Ri'chard: Because I had a crush on Vivica.
VAF: [LOL]
TB: You see, that's how rumors get started, Robert!
VAF: Exactly!
RR: The first time I ever modeled, I walked the runway with Tyson. And he let me walk in front of him. He was the man! I was like, "This is my dude!" So, when I was approached about working with him for a whole movie, I didn't hesitate for a second. I just said, "Count me in."
KW: Is there any truth to the rumor that you two are an item since making this movie?
VAF: Yes, Robert Ri'chard is the love of my life!
RR: The rumor's not big enough.
VAF: [Laughs] We're having fun, but let me set the record straight. No, it's not true. It was my first time working with him. And our scenes were so intense that everybody was like, "Wow! They have a major connection with each other." But it was literally mutual respect as actors. There's no romance going on.