G ☺☺D BLUE & Y☺U: Sergeant Craig Littles
Veteran officer creates way to involve others in his long held desire "to help people that couldn't help themselves."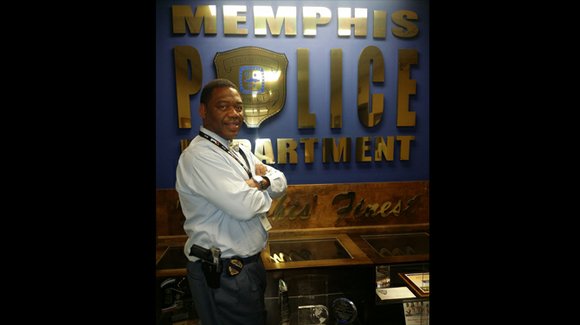 (Just as a neighborhood should not be judged by the actions of a few bad apples, neither should law enforcement agencies. The New Tri-State Defender's "Good Blue & You" column spotlights law enforcement officers who do it right. This week's focus is on Sergeant Craig Littles.)
A 24-year veteran of the Memphis Police Department, Sergeant Craig Littles began his law enforcement career as a patrolman out of the North Precinct, where he was assigned to the high schools and public housing division. While growing up he wouldn't let his neighborhood's often bad opinion of police officers detour his dream of becoming one and instead kept his vision close to his heart.
After a military career (1987-91) that included a social education stay in Germany, Desert Storm duty and time with the National Guard, Sgt. Littles was able to draw upon those experiences and says they helped him become the police officer he is now. Today he is Sex Crimes investigator.
Sergeant Craig Littles: I always wanted to help people that couldn't help themselves. My family came from Chicago but I grew up in North Memphis in the Ridge Crest Apartments. During that time the public perception of officers was really bad and I wanted to grow up to be one of the officers that made it good.
Kelvin Cowans: With your military career behind you at that point, what from that experience helped you become a good officer?
SCL: Actually when I was stationed in Germany I learned a lot about the social ability of the different races; it wasn't that bad. One big difference for me was the language, as I spoke English and of course they spoke German. But as far as racism, it wasn't there.
Truthfully, they treated you better there than we were treated back home in America. There was one time I remember being in a certain part of Germany where a young man walked up to me and rubbed my skin. He then turned to his mother and asked her does that rub off, as if I was wearing paint or something. He had never saw a black person before. That was eye popping for me.
KC: Speaking of eye popping, Desert Storm had to be pretty challenging.
SCL: Yes, because we thought we weren't coming home. Before going off to war you do a lot of training and you really don't know what it's about until you go. So prior to leaving you're issued these dog tags and they are so that your body parts can be identified in case of death. Also in your backpack they give you a body bag so that your fellow soldiers can have something to place your body in for transporting. There was a lot that I didn't know, but I grew up quickly."
KC: We salute you sir. You made a comment earlier as we got ready for this interview that as an officer you wanted to save somebody every day. How does that pertain to the Memphis Bears Inc. that you founded in 1996 and is getting ready to celebrate its