Money vs. Manny = B.S.
What the world saw was absolutely not a fight, it was a Business Scenario (B.S).
by Howard Robertson & Larry Robinson Special to The New Tri-State Defender | 5/8/2015, 10:58 a.m.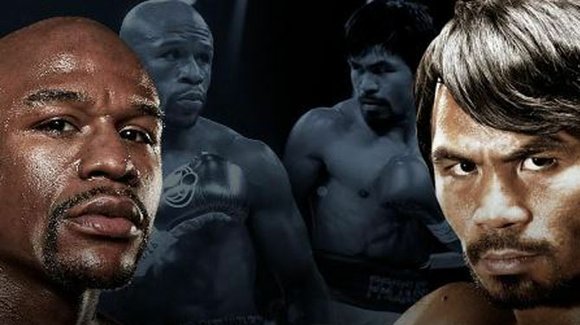 Yep. There we were in the midst of a really nice fight party waiting like kids at Christmas for time to wind down and the combatants to show up and show out in the richest fight in human history. Both sides had their own scenarios.
To Money Mayweather fans, Floyd was the undefeated (47-0) king of boxing in the modern era.He'd taken on all comers, including boxers who had beaten Manny Pacquiao. Floyd wasn't scared of Manny, but he vowed there would be no fight until the deal was right.
The Manny Pacquiao fan scenario was different.Floyd had avoided fighting Manny for years while padding his record and his pockets fighting the rest but not the best. The boxing public demanded and media issued a veiled threat to Mayweather that if his next fight was against anybody other than Manny, there was going to be a problem.
But now it's finally time. Now we're finally getting' ready to rumble.
What we saw next was BS.Yes, what those letters usually stand for accurately describes what you saw but we've got another meaning for that acronym too. What the world saw was absolutely not a fight, it was a Business Scenario (B.S).
First of all, fights are supposed to be contentious, not friendly. Business transactions tend to be friendly and this one was as amicable as could be from beginning to end, especially on Manny's part. Did y'all notice the final round glove touch up? We thought Manny was going to give Money some sugar.
That thing was so far from a fight in so many ways. Fights are all out. Business scenarios are measured.Emotions spill out in fights.Anger, fear, resignation, desperation, shock and hurt were all conspicuously absent from last Saturday's event because those emotions tend to be avoided in business scenarios.
There was one emotion broadly displayed by both camps at the end...joy, because it was time to get paid. That's classic B.S. And midway through, with their fighter only slightly behind, did you hear the Pacquiao fans screaming for him to punch, especially when he seemed to have Floyd cornered? It's highly unusual for fans to have to remind their fighter to punch in the midst of the biggest title fight of all time. There again, it is not unusual if it's about the B.S.
Nobody could be bigger advocates for professional athletes making as much money as possible than us. Because we know very well that regardless of how big their checks are, the people who signed their checks make a hell of a lot more. So we aren't hating on big paydays.

We really did expect to see a great fight. We've seen great fights before: The Showdown - Sugar Ray Leonard vs. Tommy Hearns, Thrilla in Manilla - Muhammad Ali vs. Joe Frazier (3), The War - Marvin Hagler vs. Tommy Hearns and of course Rumble in the Jungle - George Foreman vs. Ali.
We must've just gotten things a little twisted, especially after all the smack Floyd talked about being so great. The name of this one should've been For the Love of Money with the O'Jays performing. We would have enjoyed their performance a lot more than the B.S.