G☺☺D BLUE & Y☺U: Sergeant Nathan Todd Cockman
"Never too late to become what you were meant to be," says veteran of the Shelby County Sheriff's Office.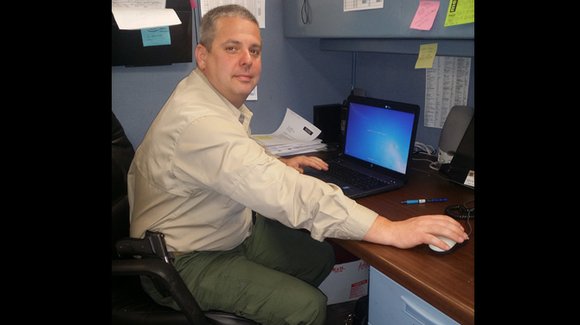 (Just as a neighborhood should not be judged by the actions of a few bad apples, neither should law enforcement agencies. The New Tri-State Defender's "Good Blue & You" column spotlights law enforcement officers who do it right. This week's focus is on Sergeant Nathan Todd Cockman of the Shelby County Sheriff's Office.)
Sergeant Nathan Todd Cockman of the Shelby County Sheriff's Office (SCSO) comes from a family tree full of law enforcement officers. His father Ron Cockman has been a correctional officer for 20-plus years, his sister Heather Turner is a detective for the SCSO and his brother Ron Cockman is a Memphis Police officer.
At a young age, Sgt. Cockman got a front-row view of what it looks like to be disciplined and tough. His mother, who has long battled Lupus, once finished a day's work after breaking her leg. When our conversation turned to his girls and his pets, he started to flash a succession of smiles, bringing out enough photos to make Kodak blush.
Kelvin Cowans: Where did you start out when you began your law enforcement career?
Sergeant Nathan Cockman: I started out as a cadet and my daily duties were to care for the police dogs. I was a caretaker and had to make sure they were fed and take them to their vet visits and keep the grass cut around their place as well. In 2001, I was fortunate to get hired on as a regular deputy and I went through the process of getting commissioned and everything. That took me through the narcotics department and so forth and I ended up landing in the detectives division. I've really had a blessed career.
K.C.: What are your duties as a detective?
Sgt. Cockman: Basically every report that is taken by the officers and the deputies come to this office on the 9th floor and they are reviewed by the detectives and we decide if it should be pursued any further or has the case came to its conclusion out in the field.
K.C.: That covers everything from theft, assault to murder and I can image that being very stressful. How do you balance that with life away from work?
Sgt. Cockman: Yes, but it is a job that I love. Still there is that need for balance. So a lot of times me and the family we'll go up to the Tennessee River and we'll go swimming, skiing or fishing and have a little fun. Sometimes we jump on the four wheelers and go for a ride and enjoy the outdoors. That's always good for us. I say us because with the kind of job I have we're definitely in this together and sometimes they feel my stress. A getaway to the river is what we all need at times. We just grab some of the pets and we're gone.
K.C.: Is that how you grew up, with pets around?
Sgt. Cockman: Oh man yeah, we grew up with chickens and horses and dogs all over the place. Now that me and my family have a little land we've got pets all over it as well, they're family. I got a little bird named "Sam" and Sam use to ride my bulldog around and Sam grieved when my bulldog passed. Here's a picture of Sam riding my dog. Here's a picture of my cat, that's our Bengal cat. Sometimes we put a harness on her and take her out to soccer games with us. She's a trip. We actually bought her from a lady in Missouri who couldn't care for her anymore. We have a big family.