Hope arrives by 'Jet' as NBA star talks community and gives back
Kenny "The Jet" Smith donates $15,000 to refresh local court.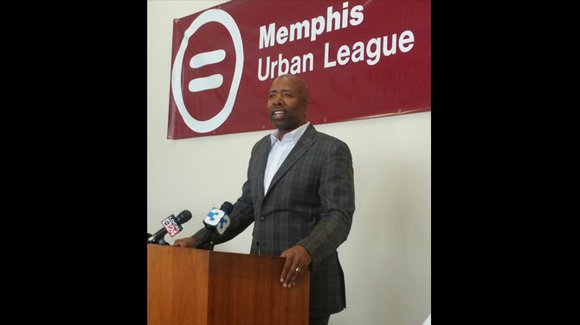 TV basketball analyst and former two-time NBA Champion, Kenny "The Jet" Smith, on Wednesday made a $15,000 donation to the Memphis Urban League Young Professionals on behalf of Coors Light to refresh a community basketball court in Memphis.
Designed to restore community basketball courts in need, the Coors Light Full Court refresh program is now in it's second year. In an era where social media has become the giant of information sharing, Coors Light has also agreed to make donations for every tweet using these hashtags: #fullcourtreFRESH and #over21

Smith, who made an appearance at the Memphis Urban League headquarters on Cleveland, noted that the refresh program doubled this year and he envisions a similar jump next year.
"I grew up in New York playing on basketball playgrounds just as kids do here. I always thought that a playground was the centerpiece for the community and not just for people playing basketball," he said.
"So to me when that looks not refreshed, I think the community feels that it may not be thought of or thought about in like maybe they don't have the same sense of pride as other communities. This is why I wanted to be a part of something like this to let communities know that we do think of you in a great manner and we're willing to help.
Smith said he teamed up with Coors Light Full Court because it wasn't an initiative about selling a product; it was about giving back.
"No one has asked me to come up and say drink more or do more or anything of that nature, it's about giving back to the community that helped build them in a sense," he said, thanking the Memphis Urban League of Young Professionals for helping us "identify where we should be in the communities."
Smith fielded a three-pronged question from the audience. "Mr. Smith, can you recall the first time you saw a basketball court go up in your neighborhood? What did you think? How did it make you feel."
"When I first saw a basketball court go up in our neighborhood I wasn't a basketball player, but I was like, 'Wow, we got new paint, new gate and all.' I just thought that the neighborhood was uplifted and I thought they were just cleaning up. Kid of like when you put on a new shirt and pop that tag and you feel good about it," he said.
"That's how I felt. I just felt good about something new in my community."
Tonya Sesley-Baymon, president/CEO Memphis Urban League, said there are people who come to the Urban league and find hope.
"So I want to thank Mr. Smith for bringing hope to the urban community. Thank you for what you're doing all across this nation. We ask that you and Coors Light continue to partner with us as we continue to do what we do in this city and we are excited about this opportunity and what's going to happen."
Joe Sargent, associate brand manager for Miller Coors, said everyone knows that his company is about the business of selling beer and "that's not what this is about. This program is about connecting to the communities," he said.
"We go in and assess each court based on what it needs and we provide. One court may have cracks, another may need painting or gates and another may need an entire floor, so that's what we do. We have done inside and outside basketball courts and everyone has been so excited about the positive energy that the community gives us about what we're doing."
Last year, the program did 11 basketball courts last year, with the court in Memphis the fourth this year.
"So we're growing and moving along pretty quickly," said Sargent. "Basketball brings people together, requires a lot of teamwork. We've always believed in teamwork, so this was a natural thing to do, step to make."

(Kelvin Cowans can be reached at Kelvincowans@hotmail.com.)