A monster named Mike and the man he is now
"A Little R&R on Sports": There is likely no other sports figure in recent history that has so thoroughly and consistently been labeled a monster than Michael Gerard Tyson.
by Howard Robertson and Larry Robinson | 3/18/2015, 1:48 p.m.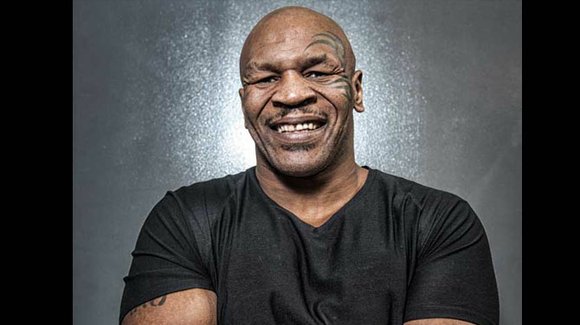 A creature that typically is large, ugly and frightening; 2. An inhumanely cruel or wicked person; 3. A person, typically a child, who is rude or badly behaved. Those are three definitions of the same word – monster.
There is likely no other sports figure in recent history that has so thoroughly and consistently been labeled a monster than Michael Gerard Tyson.
In the past, the media rarely talked about Mike Tyson in terms of "who" he was. Was he conceived in a petri dish, a test tube or hatched? Who were his parents? These never seemed germane to any reports about Mike.

Lorna Mae Tyson gave birth to the youngest of her three children, Michael, on June 30, 1966 in Brooklyn, N.Y. His father Purcell Tyson, a man of Jamaican descent, was never in his son's life. So Mike was pretty much on his own. He was a little kid with a lisp, a squeaky voice and a particular love for pigeons. Ironically, his peaceful, passive, passion for pigeons pushed him into pugilistic pursuits. A bigger, older kid once ripped the head off one of Mike's pigeons. Mike attacked. This began a life of brutal, rage-fueled beatings that would become his lifestyle.
The streets raised Mike Tyson; home training didn't really exist. By the time he was 13 he'd been arrested 38 times. His momma died when he was 16 and he dropped out of high school. He became the ward of boxing manager and trainer Cus D'Amato, who became his legal guardian.

Mike was Cus' son and fight prodigy, studying at the feet of D'Amato who poured his boxing knowledge and savvy into the young, receptive boxing "Frankenstein" he was building. While other kids his age were studying chemistry, socializing, dating and considering colleges, Mike was studying boxing history, dissecting skills and styles of fighters and boxing eight hours a day…every day.
Shortly after Mike turned 19, Cus died in 1985. He took it hard. Within three short years he had lost the two closest, wisest people he knew. But by this time, the little kid had become a chiseled 220-pound tank with a new first name…"Iron." Then, one year after Cus' death, Trevor Berbick World Boxing Council (WBC) Heavyweight Champion lost his title in a 2nd round TKO to the 20-year-4-month old "Iron" Mike Tyson. He became the youngest heavyweight champion in history.
That's when the "baddest man on the planet" began consistently committing and contributing to the perception of him as a monster in the hearts and minds of the American public.
He, in many ways, became a sideshow freak promoted by the all-time king of hucksters, Don King. He was like a mute beast beside the "beauty" (well, not really but you get the parallel) Robin Givens, who spoke for and about him on primetime television while he appeared tranquilized and oblivious to what was happening. He was the brutal sexual deviant accused in the assault and rape of Desiree Washington. He was a fool with nearly a half-billion dollar fortune who'd lose it all because he had far more dollars than he had sense. He was a prisoner. Then, like an animal or a cannibal, he bit Evander Holyfield in a championship fight, twice.