Break It Down Towing's Tony Anderson has some break-it-down advice for Memphis
3/13/2015, 2:51 p.m.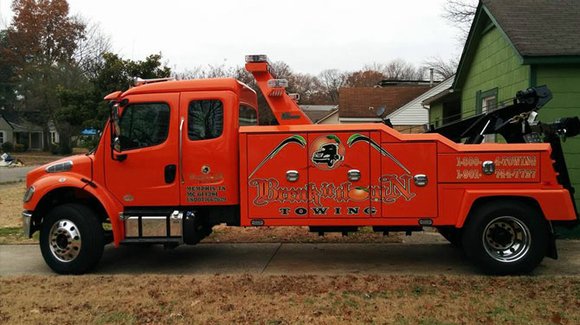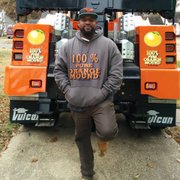 by Brittney Gathen
Special to The New Tri-State Defender
Antonio "Tony" Anderson developed a passion for the towing business at an early age, with his first exposure coming as a teenager.
"I knew an old guy in the neighborhood who had a tow truck and I always used to hang around him and ask him questions. So I kind of knew that's what I wanted to do when I got out of college," Anderson said.
The Melrose High School graduate enrolled at a two-year college, but after a year he decided it wasn't for him. He chose to opt for his passion – owning a tow truck company.
Anderson said he purchased his first tow truck around 1993, with him doing all the towing. Now, some 22 years later, Anderson is the owner of Break It Down Towing, Inc., a 24-hour towing business located at 2310 Dunn Ave. He has three workers on payroll and five trucks.
Featured in Anderson's fleet is a towing rig that can haul 30,000 pounds, allowing him to haul some Class C vehicles (vehicles weighing 26,001 or more pounds) and all Class D vehicles (vehicles weighing 26,000 pounds or less). His is the first African-American-owned business in town to have this kind of horsepower, according to Kerry Hayes, the director of public relations for Doug Carpenter& Associates, the public relations and advertising firm that serves Financial Federal, which provided funding for the rig.
Anderson said Financial Federal Vice President Ben Sutton reached out to him and that the bank made the transition easy.
"In the past I was having problems with getting finances through other institutions," Anderson said. "The guys over at Financial Federal saw something in me and gave me the opportunity. It was a blessing that Ben saw something in me and saw something in my company."
Sutton said the bank is proud to help Anderson in his business endeavor.
"As soon as we met Tony, it was clear that he was an industrious, creative entrepreneur with whom we were going to have a very productive and enjoyable banking relationship," Sutton said in a statement. "His tireless work ethic, dedication to customer service and passion for his community are so impressive. Break It Down Towing is the perfect example of the kind of small business that we want to support in Memphis. Financial Federal is proud to work with Tony, and we look forward to seeing him grow."
Among Anderson's more memorable transports are the two cars in front of the Lorraine Motel at the National Civil Rights Museum. He towed them from the museum to a paint and body shop and back. His company also has towed vehicles for NFL players such as Michael Orr and Dwayne Robertson.
"They towed my car, a 66 Cutlass, off the interstate. I trust Tony Anderson," Orr posted on the Break It Down website.
Anderson sees his business evolving to where he can inspire and employ more people.
"I see my company as growing to where I can employ more young African-Americans, give them the opportunity to own their own businesses and just give them the outlook of knowing that if 'I can do it, you can do it.' But it takes persistence, hard work, doing people right and building your clientele to where people know to trust you with their prized possessions."