Wendell Donelson: Perfectly fit for catering
ON OUR WAY TO WEALTHY: Chef Donelson has mastered the task of catering by learning from the best.
3/2/2015, 10:42 a.m.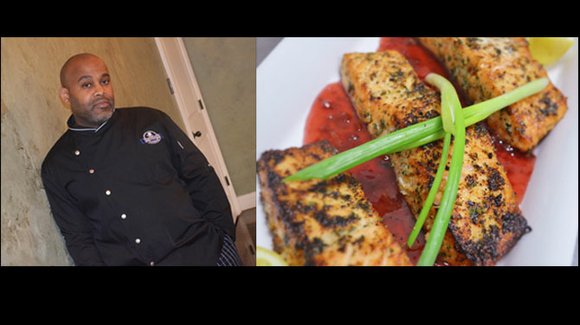 As a self professed foodie it is my passion to enjoy food that looks great and tastes even better. Some people do it better than others. One of them is Wendell Donelson, who has mastered the task of catering by learning from the best. With almost two decades of culinary experience, Chef Donelson feasts frequently look too good to eat. Join us as he explains why.
Carlee McCullough: How did you get into the catering business?
Wendell Donelson: My passion for cooking was discovered in the USAF. After being discharged from the Air Force I was blessed to gain a cooking position at the Peabody Hotel Memphis. I worked in banquets (in-house catering) for 7 of my 9 years there working my way up from a cook to a banquet chef. I eventually started taking on catering jobs for family and friends.

C.M.: Why did you decide to do catering rather than the restaurant business?
W.D.: I decided to pursue catering versus a restaurant because there wasn't as much overhead in catering. Catering is the better fit for me because that is where I have the most experience. Catering also allows me and my staff to be a part of the most memorable events of our clients' lives.
C.M.: What inspired you to get into the catering business?
W.D.: I was inspired once I saw that I had a God-given talent. There was a light bulb that went off. I said if I can do this for a company, I can do this for myself. This was the beginning of my journey.
C.M.: How did you decide on your location?
W.D.: My wife and I literally stumbled upon a blessing. My wife and I made what we thought was a wrong turn down Dexter Road, not knowing that we were divinely led by God. We noticed a rent sign that hung in the window of a closed restaurant. We prayed in faith and sensed a peace within ourselves. We knew it was the place for us.
C.M.: How do you balance work and home?
W.D.: Balancing can be extremely tough. I don't think I have mastered it yet. It is a work in progress. One vow I made to myself is that I wouldn't be accessible 24 hours a day. When I leave for the day I try to cease all business activities and spend time with my family. There are exceptions of course. But you must have a cut off.

C.M.: What are the necessary elements that go into a successful business?
W.D.: The recipe for a successful business is God, prayer, integrity and excellence.
C.M.: How would you describe your overall vision?
W.D.: Our vision is to serve the corporate (for-profit and non-profit), governmental, educational and social sectors with integrity and excellence while looking for opportunities to serve the bread of life.
C.M.: What is next for Donelson's Catering?
W.D.: We are considering opening a lunch spot for our next venture.
C.M.: What type of functions do you like to do most?