Wharton: move Forrest statue, relocate graves
Memphis debate revives over statue of Confederate general.
by Adrian Sainz Associated Press | 6/25/2015, 1:57 p.m.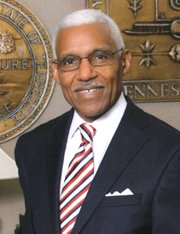 A debate over Confederate symbolism has been rekindled by a suggestion to remove the statue of Nathan Bedford Forrest — rebel general, slave trader and early Ku Klux Klan member— from Health Sciences Park.
The bronze statue of Forrest on horseback sits above his grave and that of his wife at the shady, roadside park nestled in Memphis' medical district. The spot used to be called Forrest Park, but a racially-mixed City Council two years ago renamed it Health Sciences Park, a move that sparked a protest by a Ku Klux Klan faction.
On Wednesday, Mayor A C Wharton Jr. said he personally thinks the statue should be removed from the park and "returned to Forrest Monument Association that had it placed there." Wharton said the graves should be relocated to Elmwood Cemetery.
Wharton, who faces a re-election challenge in October, appears to be making another move to distance the city from the legacy of Forrest, who once served as a Memphis councilman.
"Memphis City Council has the authority to remove the statue from the park. I look forward to working with them to implement whatever change the Council approves," said Wharton.
Lee Millar, spokesman for the Sons of Confederate Veterans in Memphis, says the group opposes the statue's removal.
"It's too bad that Mayor Wharton wants to get involved in anti-Southern criticism," Millar said Thursday. "There is already enough in Memphis to keep the lawmakers busy."
The Associated Press asked council member Kemp Conrad if the council plans to consider moving the statue. In response, he emailed an April 29, 2013, opinion by city attorney Allan Wade saying the council has authority to relocate the statue but any attempt to reinter Forrest and his wife would require a lawsuit.
On Thursday, council chairman Myron Lowery expressed support for moving the statue.
Questions remain about moving the statue in light of a state law barring removal of war-related monuments.
Discussion of the Forrest statue has been renewed amid calls throughout the South to do away with Confederate symbols after the massacre last week of nine people at Emanuel A.M.E. Church, an iconic African-American institution in Charleston, S.C. The white suspect, 21-year-old Dylann Storm Roof, posed in photos displaying Confederate flags.
Wharton called the shooting a watershed moment in U.S. history.
"This rising tide is one that causes us to go through another period of introspection," he said Thursday. "Have we done everything humanly possible to rid ourselves of even the vestiges of a horrible period in the history of this nation?"
In Nashville, efforts to remove a bust of Forrest from the Tennessee Capitol gained momentum Wednesday when the state's two Republican speakers asked the State Capitol Commission to evaluate what should qualify someone to be honored in the Capitol complex.
Forrest, a cotton farmer and slave trader, lived in Memphis before the Civil War. Though lacking traditional military training, he rose to lieutenant general in the Confederate Army and became legendary for fast horseback raids that disrupted the enemy's supply lines and communications.