Wellness Wednesday: Are you on a low-sodium diet but love the taste of barbecue?
The American Heart Association and The New Tri-State Defender are here to help.
TSD Newsroom | 6/24/2015, 2:20 p.m.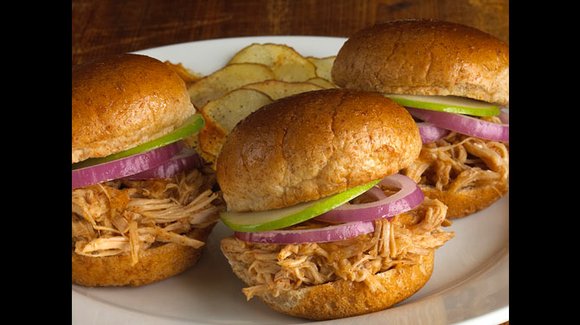 Just in time for your Independence Day cookout, here is a delicious, and heart-healthy way you can celebrate America's birthday while watching your sodium intake.
BBQ Pulled Pork Sliders with Homemade Potato Chips
Pulled Pork:
1.5 tsp. dried thyme
1 tsp. garlic powder
½ tsp. paprika
½ tsp. black pepper
2.5 lb. lean, cut pork loin roast, all visible fat discarded
½ cup unsweetened, plain apple sauce
¼ cup apple cider vinegar
2 tsp. honey
½ cup low-sodium chicken broth
½ cup water
1 small onion, coarsely chopped
BBQ Sauce and Sandwiches:
¼ cup unsweetened, plain apple sauce
2 Tbsp. sugar-free peach preserves
1 tsp. apple cider vinegar
12 whole-wheat slider buns
1 thinly sliced green apple (about 12 slices)
½ thinly sliced red onion (about 12 slices)
Homemade Potato Chips:
1 medium Idaho baking potato
Non-stick cooking spray
½ tsp. pepper
2 baking sheets
Parchment paper
Directions:
Pulled Pork:
In a small bowl, combine thyme, garlic powder, 1 tsp. chili powder, paprika and pepper. Rub evenly over pork. Set aside.
In a small bowl, whisk together ½ cup apple sauce, ¼ cup apple cider vinegar, honey, chicken broth and water. Place pork on top of onion in crock-pot and pour apple sauce mixture over pork. Cook on low setting for 6 to 7 hours.
Remove meat from crock-pot and discard remaining cooking liquid. When cool enough to touch, shred pork by hand or with two forks, discarding any fat and/or bones. (Optional: remove onions with serrated spoon).
BBQ Sauce and Sandwiches:
Whisk together apple sauce, preserves, chili powder and vinegar to make BBQ sauce.
Toss sauce will pulled pork. Fill each slider bun with about ¼ cup pork, apple slices and red onion slices.
Homemade Potato Chips:
Preheat oven to 350° F.
Slice potato as thinly as possible, into about 1/8-inch thin slices.
Place one sheet of parchment paper on one of the baking sheets. Spray evenly with cooking spray and place one layer of potato slices. Spray another coat of cooking spray over the potatoes. Place another sheet of parchment paper. Turn the other baking sheet upside down on top of the baking sheet with the potatoes.
Bake for 20 minutes. Uncover top baking sheet and parchment paper, sprinkle with pepper and bake for an additional 15 minutes.
Remove any chips that begin to turn too brown before the 15 minutes is over. Let cool and serve with pork sliders.
Watch preparation video below.
Nutritional Info
Nutritional Analysis
Per serving
Calories Per Serving
445
Total Fat
10.5 g
Saturated Fat
2.5 g
Trans Fat
0.0 g
Polyunsaturated Fat
2.5 g
Monounsaturated Fat
3.5 g
Cholesterol
78 mg
Sodium
352 mg
Carbohydrates
58 g
Fiber
8 g
Sugars
17 g
Added Sugars
0 g
Protein
33 g