Shelby County Sheriff's Officer David Coleman
G☺☺D BLUE & Y☺U: A 15-year-plus veteran law enforcement officer who still follows his heart.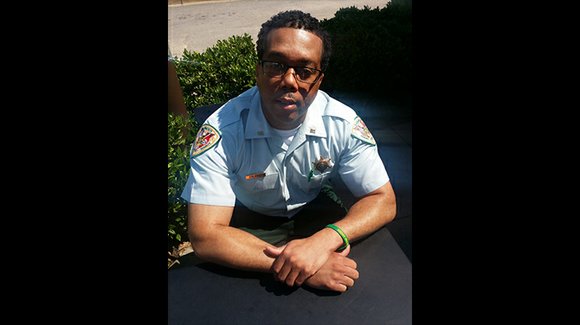 (Just as a neighborhood should not be judged by the actions of a few bad apples, neither should law enforcement agencies. The New Tri-State Defender's "Good Blue & You" column spotlights law enforcement officers who do it right. This week's focus is on Shelby County Sheriff's Officer David Coleman.
For a long time now, Shelby County Sheriff's Officer David Coleman has had a heart for people, which is what actually drove him into the law enforcement profession 15 years ago.
While assigned to the rough house Shelby County Jail in 2005, famously nicknamed 201 Poplar, he saw a need to provide inmates with life skills to help with their transition back into society. He started a program titled L.I.F.E. (Living In Fear of Expectations).
Over a decade later, Coleman's seen the fruit of his labor, as many former inmates have reached back to say thank you as they moved on into a more positive lifestyle complete with major accomplishments. However, this father of two girls still has a heart to help, inform and relate and he's almost election-year adamant that more can be done.
Kelvin Cowans: The L.I.F.E. Program you hold inside of the county jail – that is bold, intuitive and I'm sure it means a lot to those guys. What are some of your main points with this program?
Officer David Coleman: It was about expectations. This is what I teach them. You're expected to be a father, a husband, to be a law-abiding citizen, to get a job. You're a man and these things are expected of you and you must respond to the call. My program consists of teaching them about resume writing, how to give a great interview and the proper way to dress. I believe that the program is helping and can indeed be even more positive. All we have to do is stick with it and we have as it is about 11 years old now.
KC: In 2012 you were placed on the Crime Prevention Speakers Bureau. Will you share what that consists of?
ODC: It basically consists of me going out and talking to kids at different schools, hospitals, churches and community events all around the county. We teach over 30 programs based on things such as taking a bite out of crime, saying no to drugs, anti bullying and many more. The job is demanding because you're dealing with people and as you know people have good days and people have bad days. As officers we go out and we can't be regular people when on the shift. We have to put forth an effort to have a good day everyday because of our authority.
KC: In being a law enforcement officer, how do you unwind from the stress of the job?
ODC: I love sports and I'm a Lakers and Cowboys fan. So that takes me away. Then sometimes I jump in my car late evenings and just take a ride around the city and listen to music and that's very relaxing. It's the small things that help keep me balanced.