R & R on Sports: Respect yourself and protect yourself
Florida State QB De'Andre Johnson should have walked away before punching a woman in the face.
by Howard Robertson and Larry Robinson, Special to The New Tri-State Defender | 7/24/2015, 11:39 a.m.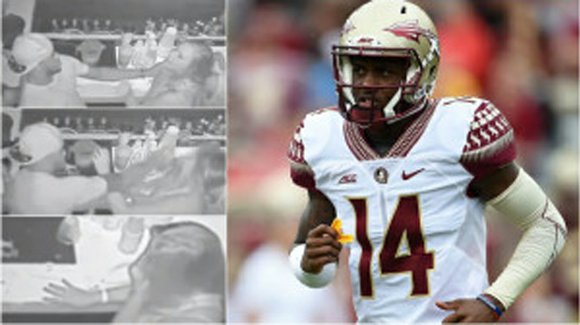 "If you're walking 'round thinkin' that the world owes you something cause you're here, you're going out the world backwards like you did when you first come here... Respect yourself, respect yourself. If you don't respect yourself ain't nobody gonna give a good cahoot."
– Staple Singers
That was the 1972 gospel according to Pops Staples and his daughters. To many of us it makes good common sense, but that is the biggest misnomer of all time because common sense is anything but common.
Back in the day, this kind of homespun mother wit was usually dispensed by and received from momma, daddy, grandpaw, granny or some other elder in the family. Most of the time what they said wasn't deep and philosophical. What they said was usually simple and practical, like, "Be careful now and take care of yourself."
It's too bad too many talented, high profile athletes either don't get or don't heed that kind of sage wisdom.
Consider the case of former Florida State University quarterback De'Andre Johnson who was recently kicked off the team after a camera caught him punching a woman in the face at a bar. The woman punched and allegedly called him a "Nigger." Neither a woman raising her hands to hit a man nor vice versa is ever justified or right. So, there are those among us that may understand and empathize with what De'Andre did.
Nevertheless he should have respected himself, his momma and protected his future by walking away. That punch hasn't cost him millions in cash…yet. What it did cost him was his status as a scholarship athlete at FSU, it heavily blemished his developing brand identity and only time will tell what else it'll cost him. Remember this too, that video will follow him throughout his career. It resides forever in multiple locations on YouTube and will help "define" De'Andre in most all future media coverage.
A distressing NFL stat was recently revealed by "First Take's" Stephen A. Smith. Of the 96 reported NFL domestic violence cases, 94 involved African-American players. That's 98 percent if you're doing the math.
Those are basically 94 black multi-millionaires blessed to make those millions playing a game who thought they were right or had the right to inflict violence on another person. These are 94 millionaires who could not control themselves or their emotions effectively enough to respect and protect their own futures.
In the movie "The Butler," there was a depiction of the passive resistance and non-violence training that the Rev. Jim Lawson (former pastor of Centenary Church here in Memphis) used to conduct in Nashville for protesters before participating in sit-ins. They knew they were targets but had to have the self-control, strength and wherewithal not to strike back because doing so could cost their lives. Celebrated athletes are often targets of mean-spirited media and a hateful public alike. So they need to develop and exercise the same kind of non-retaliatory discipline.
There are other recent examples of professional athletes not protecting themselves too. Consider the cases of the New York Giants' Jason Pierre Paul and the Tampa Bay Bucs' C.J. Wilson. Jason had an index finger amputated and a pin placed in his thumb while C.J. had a middle finger and an index finger amputated after both handled fireworks during the Fourth of July holiday weekend. Of course we know these were unfortunate accidents but they were also unnecessary accidents. Jason and C.J. had an obligation to themselves, to their families and to their employers to protect themselves and not put themselves in harms' way. Most would agree that handling explosives may well be putting yourself in harms' way.
Professional athletes from humble circumstances can least afford to lose their status because they struggled so hard to get where they are as other people's lives and status rode on their success or failure. For family and friends, many athletes' wealth and success is everybody's bridge over the troubled waters of disadvantage and hard times. It's possibly the only opportunity they'll get in this life to create generational wealth for their family.
Young folks need to realize and recognize that they have the responsibility and power to control their emotions, their choices and their actions. Don't blow up your own bridge with an explosion of anger, carelessness or foolishness. It's on you because if you don't protect yourself…"ain't nobody gonna give a good cahoot."
"A Little R&R on Sports" is heard nationally Saturday mornings, 10 a.m. central on the Sports Byline Network (sportsbyline.com) and podcasts are available on iHeart Radio (iheartradio.com) and randronsports.com.