Congress' struggle to replace No Child Left Behind
Secretary of Education: Either of the current proposals could spell difficulties for black and brown children.
by Jazelle Hunt, NNPA News Service | 7/17/2015, 1:33 p.m.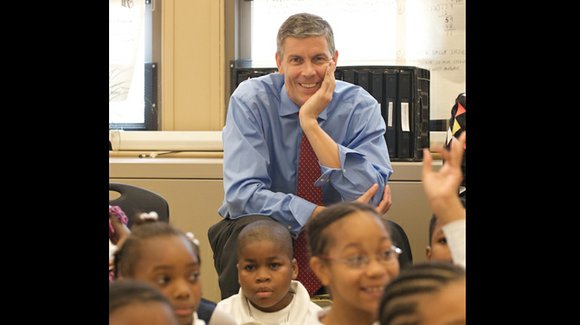 WASHINGTON – As Congress works toward a comprehensive education policy that will replace the Bush Administration's No Child Left Behind, two different bills from the House and Senate are up for consideration.
No Child Left Behind expired in 2007 – the law was the last time the original Elementary and Secondary Education Act of 1965 (ESEA) was renewed.
If either of the current proposals is signed into law in their current states, it could spell difficulties for black and brown children, according to Secretary of Education Arne Duncan.
"I always say that education is the civil rights issue of our time," he said. "The next question we as a nation should be asking is whether black children, Latino children…children around the nation – are they receiving the quality of education they need and deserve? And too often the honest answer is, not even close. There should be nothing political or ideological about this; this is about fighting for kids' educational opportunity."
Secretary Duncan believes that Congress' resistance to federal oversight will weaken whatever law is passed. Neither the House's Student Success Act (SSA) nor the Senate's Every Child Achieves Act (ECAA) gives the Department of Education the authority to hold states accountable for educational outcomes, create national standards/mandates, or pass judgment on a state's education system.
Also, neither bill closes the ESEA's "comparability loophole" – a loophole that allows states to skimp on state and local funding for needy schools, forcing them to rely heavily on federal Title I money. As a result, high-poverty schools remain under-resourced and saddled with underpaid, inexperienced teachers, because the state won't match the federal funds.
"Education will always be primarily a local issue, but [there is] a clear federal role here on several levels. First of all, taxpayers…are putting billions of dollars out to states every year for poor children, for English language learners, for children with special needs," Duncan said in an interview with the NNPA News Service. "And there's no real accountability. Transparency by itself doesn't change a kid's opportunities."
The similarities between the laws end there.
In general, the SSA seeks highly flexible public education by prohibiting almost all federal involvement, allowing states to create and rely on their own education plans instead. There are guidelines for what these plans must address, including a system to find and correct racial disparities, or deal with ineffective teachers. But the bill painstakingly avoids telling states how they should meet these guidelines.
A state can also create whatever curriculum it wants – as long as it includes at least math, literacy, and science, and state tests to go along with the curriculum. States would also be largely responsible for holding themselves accountable for their own strategies and all students' academic success. The Department of Education would only be responsible for reviewing the states' self-evaluations to make sure tax dollars aren't misused. In that case, Secretary Duncan is only allowed to issue recommendations and public reports.
The SSA also includes a controversial "portability provision," which would direct Title I funds wherever a low-income student is enrolled. Even a well-resourced public school or a private school could receive Title I funds if it has a single low-income student.